About this Event
In this workshop we share with you our tried-tested-and-functioning methods to solve complex innovation projects. You learn our approach and gain our assets that have been successfully used with our clients including Zalando and Wefox to name a few.
• In this workshop, we exclusively focus on module 1 and 2 of our process which is about conducting preliminary research and market validation.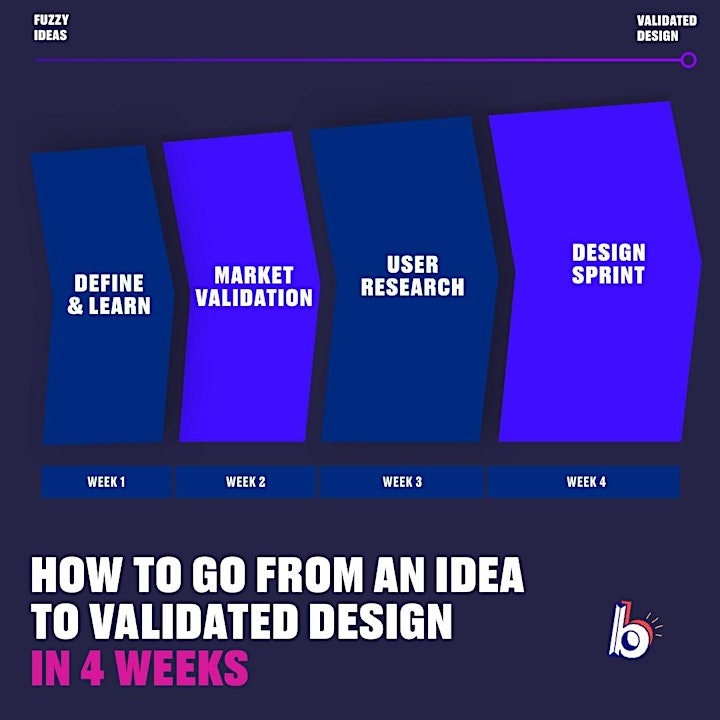 • Learn our methods to gain just-the-right insights in your initial research and be prepared to lead an innovation project.
✅ How to frame problems and define research questions
✅ How to conduct market research
✅ How to conduct user research
• Achieve market validation for your projects by learning to frame the right problem statements, making hypotheses and testing them in the market - in a week
✅ How to create hypotheses
✅ How to create quick experiments
✅ How to get to market validation
👉 Read about our 4-week process
Sounds great? there's much more..
• Receive our expert flowchart that divides tasks in a comprehensible process to tackle all complex innovation projects -- from Design to Marketing to Product.
• Receive our Design Thinking Kit
1) Bonanza Design — Design Thinking Flowchart
2) Empathy Mapping Template
3) Problem Finding Template
4) Hypothesis and Experiment Template
5) Customer Journey Mapping Template
6) Customer Interview Sheet
7) Experiment Sheet — to keep track of your experiments
About the Facilitator: Behrad Mirafshar
Behrad is a highly experienced UX designer and an active voice in the field of Sustainability, Innovation and Design Thinking. He studied the latter in Sweden and in 2012, moved to Berlin.
With more than 10 years of experience, he has designed applications for different industries including Automotive, Digital Health, Finance, Fintech, IoT and HR. To share his expertise he gives Design Thinking workshops, trainings and seminars.
Connect with him on LinkedIn
About Us
We are an innovation powerhouse that assists businesses to overcome their most complex growth and design challenges and innovate further -- at an unprecedented pace. We help companies at all stages to:
✔ Accelerate through the digital transformation phase
✔ Define their customer experience strategies
✔ Design applications that matter
✔ Innovate at a faster pace
✔ Move towards a sustainable future