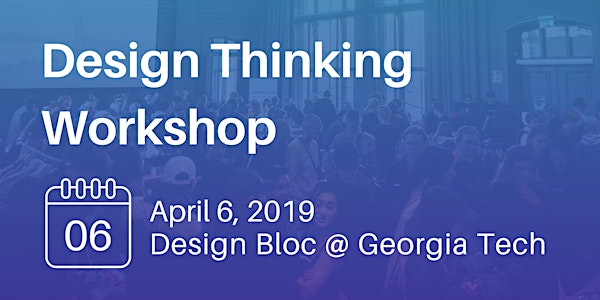 Design Thinking Workshop - Illimitable 2019
#Illimitable19 is a technology summit that focuses on design as a gateway to more accessible, inclusive, and equitable communities.
When and where
Location
Georgia Tech Design Bloc 890 Curran Street Northwest Atlanta, GA 30318
About this event
This full-day workshop introduces attendees to concepts and methods in design thinking, accessibility, and inclusive design. To learn more about our upcoming events, visit illimitable.org/summit.
Cost: Free
Audience: All participants must be 18 years old or older and meet the eligibility requirements for either the "Student" or "Community" ticket type (see below for more details). No prior design or technology experience is required to participate in the workshop.
Event schedule:
8:00 AM Breakfast (provided) and registration
9:00 AM Welcome and introduction
10:00 AM Empathy workshop
12:00 PM Lunch (provided)
1:00 PM Ideation and prototyping workshop
3:30 PM Showcase
4:40 PM Closing
For more information, visit illimitable.org/schedule.
Registration: To register for the event, please select the appropriate ticket type and complete the online form. You may also request a written registration form on our website. Seats are limited so reserve your ticket today. The registration deadline is Wednesday, April 3, 2019 at 11:59 PM EST.
Please note: You may not register for the Design Thinking Workshop on April 6, 2019 and the Design Thinking Workshop on April 13, 2019. That is, participants in the first session are ineligible to participate in the second session.
If you have any questions about the registration process, please contact support@illimitable.org.
Ticket types:
Student: The "Student" ticket type is for undergraduate and graduate students who are currently enrolled at an accredited college or university, and have an interest in technology, engineering, design, or a discipline related to disability. Students with disabilities, women, LGBTQ+, and racial and ethnic minorities are especially encouraged to attend.
Community: All non-students are community participants and should select the "Community" ticket type. Community participants must be (1) individuals with disabilities, (2) individuals with a personal or professional connection to the disability community*, or (3) representatives from local companies interested in adopting inclusive design practices.
*Individuals with a personal or professional connection to the disability community include, but are not limited to, family members of individuals with disabilities, clinicians, teachers, researchers, social workers, public health professionals, and law personnel.
Frequently asked questions:
Is there a minimum age requirement to attend the event? Yes, all participants must be 18 years old or older.
May I update my registration information after submitting the form? Yes.
Do I need to bring my printed ticket to the event? No, we will check you in at the registration table.
I can only attend part of the event. May I still register? No, all participants must be able to attend the entire workshop.
For more frequently asked questions, visit illimitable.org/faq.