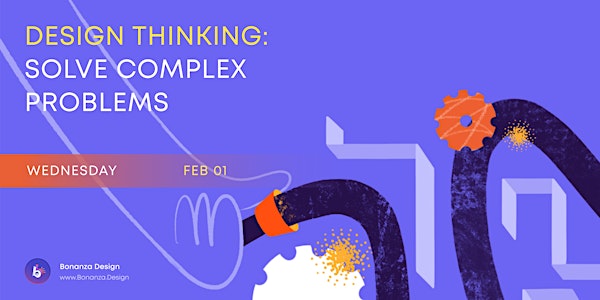 Design Thinking: Solve Complex Problems
In this webinar, Behrad will break down for you the philosophy of design thinking and the tools by which you can conduct a design thinking w
Date and time
Wednesday, February 1 · 9:30 - 11:30am PST
About this event
For over 2 years, Bonanza Design has been bringing to you webinars in Design Thinking that are aimed at anyone who wants to enter the UX Design field, from junior UX designers to product managers, and developers.
We understand how intimidating going into the field can be, with this in mind our team has carefully crafted the content in this webinar to help give you confidence and a better start on your career path.
Learning Objectives:
• Understand what Design Thinking is and how it is adapted for businesses
• Get to know Design Sprint and how it's initiated from Design Thinking
• Discover how to use Design Thinking for solving complex managerial problems and improving decision making
• Learn about Bonanza Design Innovation Process by which to conduct your own design thinking workshop
• Qualify for our 1-day intensive Design Thinking workshop on ideation and problem solving for remote and agile teams
Who can benefit from the workshop?
✔ Entrepreneurs
✔ Growth Hackers, and Business Developers
✔ Product Managers
✔ UX/UI Designers
✔ Digital Marketers
✔ Customer Excellence teams
About the Speaker: Behrad Mirafshar
Behrad Mirafshar is the founder and CEO of Bonanza Design GmbH.
Bonanza Design is a rapidly-expanding Innovation Studio with a global team based in Berlin, Germany. Behrad started the company in 2020; within just 2.5 years (and during a worldwide pandemic), the team has grown from two to 16 with annual revenue of over 1€ million. Through his passion and hard work (and without any venture capital), Behrad has built business relationships with companies such as wefox, Zalando, and HomeServe.
Connect with him on LinkedIn
About Bonanza Design
Bonanza Design is an innovation boutique specialized in designing fintech & productivity apps. Turn around your business and get to exponential growth using
1. Lean Innovation Sprint: A factory line approach to innovation. Tackle the risks of developing new businesses upfront by validating your core hypotheses using throwaway MVPs and rapid experimentation through a continuous 3-week cycle of Learn-Prototype-Test.
2. UX Design & Research: Bonanza Design's Lean UX Sprint boosts your product discovery efforts by maximizing your learnings through a continuous 3-week cycle of Learn-Prototype-Test.
By signing up for this event, you agree to be included in our email newsletter list. You can opt-out at any time.
About the organizer
At Bonanza Design, your innovation powerhouse, we help organizations such as Siemens, Zalando, and Wefox find their differentiation point by identifying the most pressing needs of their customers.
.
We hold periodic events for the public and companies to share how we solve problems using different techniques including design thinking and sprint, service design, etc. What you get is how we solve problems.
.
.
.
(Abbas) Behrad Mirafshar
Managing Director and Partner
Website: https://www.bonanza.design/
LinkedIn: https://www.linkedin.com/in/behradmirafshar/
Instagram: https://www.instagram.com/bonanzadesign/