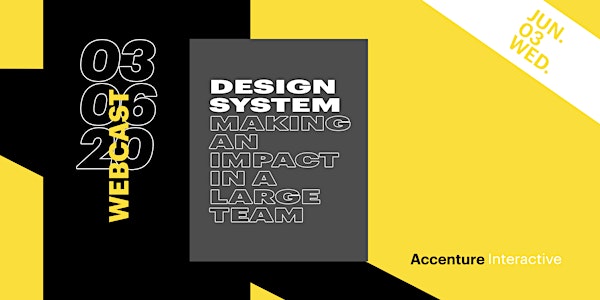 Design System - Making an impact in a large team
Irem, one of our brilliant designers, will share the phases she went through when she joined a large design team
By Accenture Interactive Amsterdam
Date and time
Wednesday, June 3, 2020 · 9 - 10am PDT
About this event
Joining an existing, large design team where a lot of the design work has already been done, takes quite a lot of challenges for a Product Designer as a newcomer. The backlogs are longer, it is harder to prioritise, communication goes differently, processes are slower, and it is difficult to keep track of what everyone is doing. Despite the challenges, there is a diversity of great talented people you can learn from.
Dealing with a design system in a large product team is already a challenge on its own. You have to use what's already there, whilst taking specific steps to add or redesign components.
This virtual talk aims to share how Irem Cayci, Product Designer at Accenture Interactive Amsterdam, took these challenges on and managed to make a tangible impact; touching upon the insights and key learning points she collected throughout the journey.
What you will take away
How to make an impact as a designer with so many others working on a Design System at the same time?
How do you collaboratively craft your case to achieve beneficial changes?
How to break the rules of a design system, yet still following them?
And how to still be creative when using an existent design system?
When?
Wednesday, 3 of June 2020, – 18:00 – 19:00 CEST
Moderators
Valentina Salvi
Icaro Bione