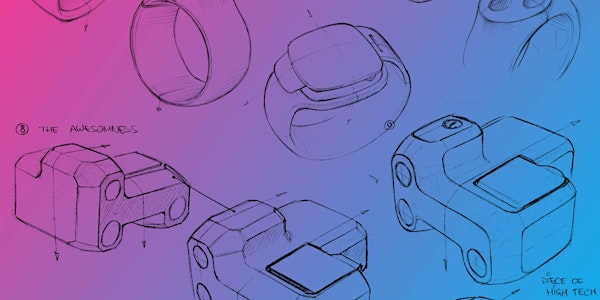 Design Sketching Workshop
When and where
Location
Factory Berlin Rheinsberger Straße 76/77 Lakestar Room 10115 Berlin Germany
Refund Policy
Refunds up to 1 day before event
Description
Skill build-up workshop for common sketching techniques and tools. The drawing course introduces complete beginners and refreshes working professionals in one of the most effective communication tools.

4 lessons / 10 hours / English language
Tutor: Evgeny Onutchin > LinkedIn
Dates in September:

Mon 2nd 17:15 - 20:45
Tue 3th 17:15 - 20:45
Wed 4th 17:15 - 20:45
Thu 5th 17:15 - 20:45

Within the course, we are going to deal with surfaces drawing for explanatory style sketches. Along with the meetings, we will review techniques for building correct objects and bodies reflecting the 3D world. Study how to make quick, designer quality sketches with pen and paper. The course is also suitable for building your portfolio or initial skill set up.

1st lesson.
After an introduction to the course, we will have a skills assessment task: trial drawing of 3 common objects. The focus of the lesson is to set get along with basic exercise for freehand line drawing using a pen.

2nd lesson.
Lines and shapes warmup for arm flow training. The lesson is aimed at drawings of objects in one, two, three, and more vanishing points perspective. Introduction to views (2/3, 1/3, front, side) and compositions. Trials accompanied by tutor's explanations in "one on one" format. Drawings of basic shapes: boxes, cylinders in perspective grid, assembly of sketches page composition.

3rd lesson.
Warmup exercise with basic shapes. Continuing the previous lesson we are going to extend the studies on complex bodies and combined forms: form building principles, shapes cutting and boolean intersections. The second part of the lesson deals with shading and gradations. Using complex bodies and learned composition principles we will train morphology of a body and various hatching techniques by capturing surrounding objects.
4th lesson.
The lesson begins with the repetition of the learned materials and transitions to the basics of light and material finish. We will learn about one light source sketch: direct light, ambient reflections in the context of matt and gloss finishes (diffusion). Training is focused on a palette for volumes buildup. Introduction to markers, pastels, and pencils sketching. Extending the knowledge on complex bodies we will train on speed sketching of complex objects surrounding us.