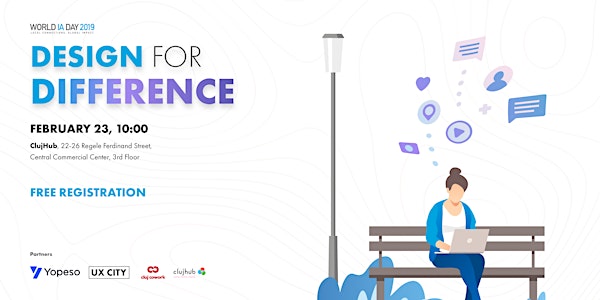 Design For Difference — World IA Day 2019
World Information Architecture Day is a one-day annual celebration hosted by the Information Architecture Institute
By World IA Day Cluj-Napoca
When and where
Date and time
Saturday, February 23, 2019 · 10am - 6pm EET
Location
ClujHub Regele Ferdinand 22-26, Central, Etajul 3 400110 Cluj-Napoca Romania
About this event
Event Agenda:
10:00 Social / Registration
10:30 Opening Remarks - Paul Axente
11:00 Raising awareness on diversity - Maria Cosma
11:30 Personalitatea cavalerului anti risipă - Stefan C. Asafti
12:00 Lunch & Learn - You bring your own food, we'll do the teaching
13:00 User Experience through Storytelling - Tudor Anghel
14:00 How to get a better job in UX and stay sane: a celebration of our diverse community - Mircea Botez
14:30 Designing for a Different World - Palok Botond
15:00 Give away break
15:30 Enterprise DesignOps: Inclusion at Scale - Jason Wishard
16:00 Information > Technology - Ben Woods
17:00 Designing for Differences: Anecdotes from a career and a life - Timothy Tim
17:30 Final Toughs
18:00 Event Ends
Speakers list:
Maria Cosma - UX Designer and UX Mentor Scoala informala de IT
Stefan C. Asafti - Brand Identity Designer
Tudor Anghel - UX Designer
Botond Palkó - Sr. UX/UI Designer Softvision
Mircea Botez - Head of User Experience Bitdefender
Ben Woods - Assistant Professor at Kent State University and Design Strategist
Timothy Keirnan - Producer and Co-Host of Design Critique: Products for People podcast
Jason Wishard - Designer Leader at Capital One/ Design Mentor at General Assembly
Help us to build World IA Day Cluj-Napoca
World IA Day runs on the efforts of a passionate and dedicated volunteer team. If consider chipping in and making this event better and more visible.
DESIGN FOR DIFFERENCE.
At World IA Day 2019 Cluj-Napoca we will explore how designers currently working with emerging technology are designing for difference and discuss how to cultivate a more mindful practice of design, raise community awareness and inform our practices.
We invite you to join in the discussion, make new friends and see familiar faces.
Why Attend?
World Information Architecture Day is dedicated to the empowerment of local leaders. Our celebrations inspire the global growth of information architecture as a community of practice and we value diverse thoughts and thinkers in our celebrations.
Community. Connect with designers, developers, and leaders.
Ideas. Experience and discuss groundbreaking work that will reshape the landscape.
Growth. The challenges we face demand bold thought and decisive action. Working together, we will forge new networks and put theory into practice.
Inclusion. We bring together people from all different backgrounds and disciplines. Our celebration - and our community - are open to all.