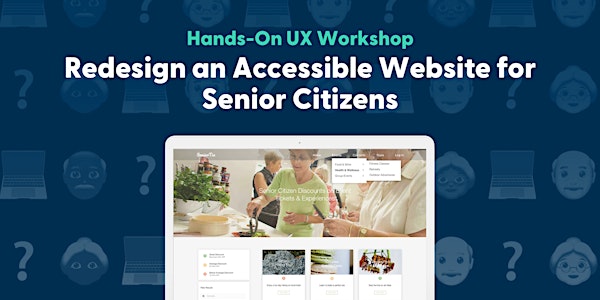 Design an Accessible Website for Senior Citizens - Hands-On UX Workshop
You'll learn new UX skills and build an impressive portfolio piece to improve the experience of seniors looking for events and attractions!
Refund Policy
Contact the organizer to request a refund.
Eventbrite's fee is nonrefundable.
About this event
🚀 What We'll Do
In this workshop, you'll take on the role of UX designer (and, accessibility specialist) for SeniorTix - a website that offers senior citizen discounts on events, outings, and activities.
Together, we'll learn and practice some of the essential concepts in UX design, accessibility, and inclusive design, and put them into action towards our redesign projects.
✅ Agenda
📝   First, we'll learn about accessibility, inclusive design, and why they are so essential to building into our design process.
🔍   Next, we'll watch users interacting to identify the issues they encounter firsthand, as the site becomes unusable to people with low vision, colorblindness, and other impairments.
🎨   Then, we'll work together to solve the accessibility issues with sketching and high fidelity designs in Figma.
🌟  Finally, we'll put everything together in a beautiful case study template that you can use in your portfolio!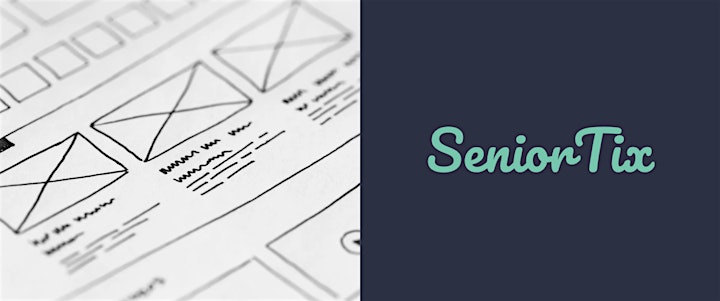 🤝 Who is this for?
🐤    UX Beginners who want to learn UX skills by actually doing it!
👩🏽‍💻   UX Designers-in-Training who want to add a new project to their portfolio, and practice some of their skills.
😎    UX Pros who want to sharpen their UX design skills or take a break from their daily work.
🌟 Recent Member Reviews of this Workshop
💞    "LOVED watching the presentation of the users navigate through the SeniorTix website then getting into the designing. I learned a lot about accessibility within a short time and got great hands-on experience."
💚     "Accessibility is fairly new to me, and I learned about its importance for users while discovering relevant tools that will help my design process. Thank you, Joe!"
💼    "Great workshop that gave me a feeling of having real-world experience. The group chats, talking to peers, and sketching was helpful."
💫    "Really awesome - very obvious that Joe put thought and care into the experience of this class, it was super smooth, coordinated, and useful. Love the online platform, Joe really managed to incorporate almost all the benefits of an in-person class while cutting out the downsides like commuting and wearing pants :)"
📈    "Woah! I did more for my portfolio in this 2hr workshop than I have in the past 2 months 😳😂 !"
🌱   "I'm a total beginner and was a little nervous going in. I felt really comfortable the whole time, and had so much fun challenging myself with this new material. Thanks for making these so simple, welcoming, and HELPFUL"
🔨 What you'll need
👍    Some UX experience is helpful, but not required. Beginners are welcome!
🖥️      Laptop or computer with Internet access, preferably in a quiet space.
📝      Pen & Paper for sketching exercises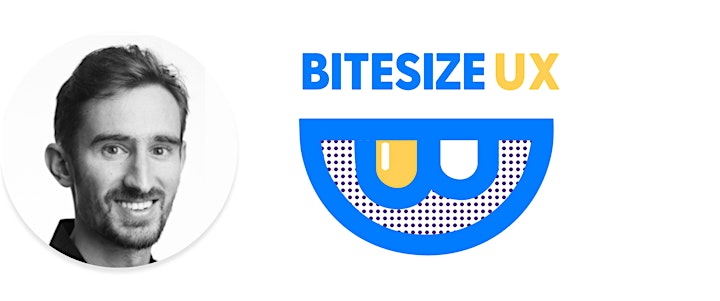 Joe Formica
Founder of Bitesize UX
Lead UX Instructor at General Assembly NYC
Senior User Experience Designer
"When trying to break into a career in design, there is no substitute for hands-on experience - but there are way too many unnecessary barriers to getting that initial experience. Traditional courses are expensive, time consuming, and largely based on theory. Internships are competitive, and unrealistic for would-be career changers who are already employed.
Joe has taught UX Design at General Assembly in New York for five years as a Distinguished Faculty Member, and has created and taught Entrepreneurship courses at Fordham University Business School. Through these roles, he has worked with thousands of designers-in-training to help them take the next steps in their career.
In addition to teaching, Joe has been a self-employed Senior Product Designer for the past eight years. He has worked with dozens of clients, ranging from Fortune 500 companies, to new startups, where he has played an integral role in their growth and success.
Joe believes that there is no substitute for learning by doing - all Bitesize courses are hands-on, project based, and beginner friendly. If you take a class with Joe, you're guaranteed to walk out with a tangible project that you're proud to show off to the world.
Joe works every day to solve "need experience to get experience" problem that prevents people from exploring new skills, roles, and careers in technology, and believes that learning as an adult should be exciting, fun, and rewarding - not daunting.