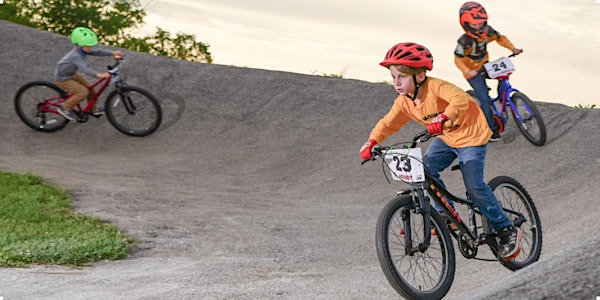 Des Moines BMX League - Fall 2022 "Give-it-a-Try" Open House For Beginners
Join us at 80/35 BMX in Ewing Park on Sept 7 (5:30-7P) for a free "give-it-a-try" event. It's a beginners-only experience that kids love.
When and where
Location
80/35 BMX Track 1701 East McKinley Avenue Des Moines, IA 50321
About this event
ome on out to 80/35 BMX in Ewing Park on Wednesday, September 7 for a FREE "give-it-a-try" Open House event, especially for new families to learn about and experience the sport of BMX Racing. The event runs 5:30PM-7:00PM.
Our Beginners-only Fall 2022 League starts Weds September 14 (5:30PM-8:00PM), and runs for five weeks (ending October 12).
The Open House is the perfect opportunity to learn about the sport, and get in on an activity that is all-about fun, fitness and family. For more info on the League, or to enroll, visit:
(Riders do not have to attend the Open House to enroll in the League, so guarantee your spot, by signing up now).
The Open House is open to boys and girls 4-15 years, and moms, dads and grandparents of riders. A "Beginner" is someone who has never raced BMX, outside the League program.
Here's a rundown of how the Open House will be structured:
For Riders
- Kids will enjoy a "roll-around" on the track, supervised by our league coach and on-track volunteers. This is an "appetizer portion" of the fun to be had in the League. Each League session also includes racing as part of the program.
For Parents
- Watch from the stands, cheer from the rail, or grab your bike, air up the tires and join the fun with your kids.
- When it comes time to sign up for the League, parents ride for $50-off the regular tuition.
- After a tour of the facility, we will give parents a briefing on how the League format works, and you'll have the opportunity to enroll on-site, if you so-choose.
For the Whole Family
-A welcome message from 80/35 BMX League staff.
-Firsthand stories from BMX families on what the sport of BMX Racing has done for their family.
-Group and personal Q&A time to answer all your questions.
What to Wear/What to Bring for Riders
- WEAR: Long sleeves, jeans, "gym" shoes
- BRING: A bike without reflectors, chain guard and/or pegs.
- BRING: A helmet, with a factory-installed chin strap.
*We have a limited number of loaner bikes and helmets, so if you do not have a bike or helmet of your own, please sign up and come out...we will work it out.
**IMPORTANT**
Riders must be able to ride a pedal bike without training wheels to participate. We offer a "Balance Bike" program for kids that are not-yet riding a pedal bike on some race nights, but it is not part of the League program.
Get the kids off the couch and on a bike! Race BMX...America's fastest-growing family sport!
Create one ticket per RIDER. Family members not riding do not need a ticket.