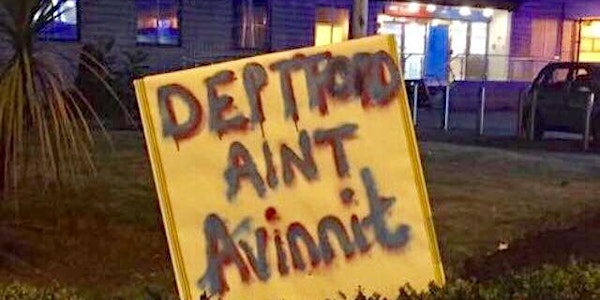 Event Information
Location
Old Tidemill Garden
Reginald Road
Deptford
London
SE8 4RS
United Kingdom
Description
Deptford Aint Avinnit

Date: Saturday 29 - Sunday 30 September
Open: 1-6pm
Work by artists: David Aylward - Caroline Jupp - Sophia Kosmaoglou & Paul Clayton - Sue Lawes - Harriet Vickers - Rainbow Collective - Real Media - Occupants of the Garden.
The Garden
Pop-up SIgn Making Studio. Occupation structures, shelter, resistance, banners, painting.
74 trees by Sue Lawes/Deptford Is Forever.
The Cabin
Films by Harriet Vickers, Sue Lawes, Real Media, The Rainbow collective.

The Reading Room
Buddleia Bulletin [01-05] by Caroline Jupp.
PERFORMANCE: Saturday 29th at 1.30pm (starting at Deptford X Hub)
RUR Re-discovered Urban Rituals presents Hands Off!
A promenade performance starting at 1.30pm from Deptford X Hub and going through the market. Follow in artist David Aylward's footsteps past Reginald House to Old Tidemill Garden - both sites of imminent demolition and gentrification - where he'll invite you to make your mark 'Hands Off!'
DISCUSSION & OPEN FORUM: Saturday 29th at 2pm
Art & Gentrification in Deptford with [ART&CRITIQUE]
Part of Deptford Art & Gentrification Walk Pt.2 (which begins at Deptford Station at 1pm) https://artandcritique.uk/art-crawl/
Join us for a discussion on the relationship between art and the process of gentrification currently underway in Deptford. Do artists have a measure of responsibility in the process of gentrification and what can they do to resist the successive waves of change that inevitably lead to their own displacement? How can local residents regain some control over the rapid changes in their environment and the impact on their everyday life?
Save Reginald, Save Tidemill is hosting performance, bookworks, films, installations, and debate in Tidemill Wildlife Garden as part of Deptford X, to raise awareness of Lewisham Council's plans to demolish the garden and 16 adjacent council maisonettes known as Reginald House.

On Wednesday 29th August Save Reginald, Save Tidemill campaigners began a legal occupation of the garden to prevent the council from boarding it up prior to its planned destruction. The campaign is currently in the process of a legal challenge against Lewisham Council to stop the demolition.
Since 2015, campaigners have been calling for a community-led collaborative design process to re-draw the plans; a similar number of new homes can be accommodated on the site, without demolishing Reginald House and the garden, but the Council have refused to listen.

All very welcome, booking is not essential.
Date and time
Location
Old Tidemill Garden
Reginald Road
Deptford
London
SE8 4RS
United Kingdom