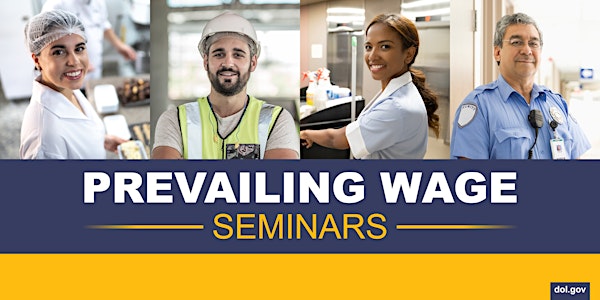 Department of Labor Prevailing Wage Seminars
Join the Department of Labor for our third Virtual Prevailing Wage Seminar!
About this event
Welcome to the third annual Prevailing Wage Seminar! Participants will have access to pre-recorded trainings on a variety of Davis-Bacon and SCA compliance topics, followed by the opportunity to participate in an overview and Q & A on these topics with DOL staff from the Government Contracts Enforcement Division, the Branch of Construction Wage Determinations, the Branch of SCA Wage Determinations, and Regional Enforcement Coordinators. Q & A sessions for Davis-Bacon topics are available on March 29th, June 14, and September 13, and SCA Q & A sessions are available on March 30, June 15, and September 14. Please select the ticket matching the date and topic you would prefer to attend. More details will be provided after registration.