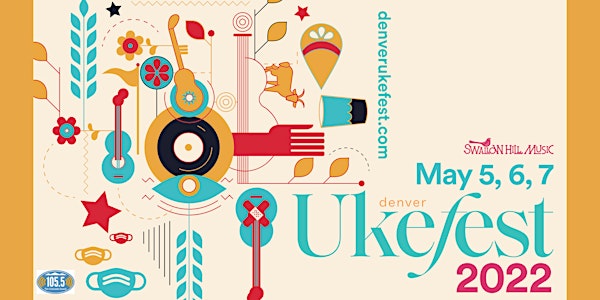 Denver Ukefest 2022
Presented by Swallow Hill Music and 105.5 The Colorado Sound
Performers
Kris Fuchigami, Danielle Ate The Sandwich, Del Rey, The Birdwatchers, Smiley Gatmouth, Daniella Katzir Band, Casey Cormier
Location
Swallow Hill Music
71 E. Yale Ave.
Denver, CO 80210
Tickets purchased for the original 2020 festival will remain valid for this rescheduled date.
About this event
Please see Swallow Hill Music's updated COVID-19 Policy here.
Denver Ukefest is a three-day festival showcasing all-things ukulele! Rescheduled from 2020.
Friday Night's concert features:
9:30p -Del Rey
8:30p - Danielle Ate The Sandwich
7:30p - Smiley Gatmouth
Saturday night's concert features:
9:30p - Kris Fuchigami
8:30p - The Birdwatchers
7:30p - Casey Cormier & Daniella Katzir
7:00p - Denver Uke Community
The 2022 Denver Ukefest will be co-hosted by Swallow Hill Instructors Daniella Katzir and Casey Cormier! The full performance, workshop, and jam schedule is forthcoming.
WORKSHOP DETAILS
Whether you are new to the ukulele or an advanced player, Ukefest's workshops run the gamut from honing your basic skills to breaking down musical barriers to add your personal stamp to how you play the uke. Featuring workshops by Swallow Hill Music instructors as well as those performing on the festival's concert stages, our workshops tie the festival together by tying fun, learning and community together.
Learn more about our workshops highlights here.
ABOUT THE ARTISTS
Danielle Ate the Sandwich is the stage name of pop-folk songwriter, Danielle Anderson. Getting her start in Fort Collins, Colorado, Danielle has been touring nationally since 2009, after cultivating an online following from her homemade videos on YouTube and her unique style of online marketing that brings her music to the audience she affectionately refers to as "Fanwiches." Her songs can be thoughtful, heavy, and serious, but Danielle rarely takes herself seriously. She's known for her quirky lyrical twists, performing most frequently with a ukulele and delivering witty and honest stage banter in her live shows.
Danielle Ate the Sandwich has made appearances internationally, opened for Mumford and Sons, Suzanne Vega, toured with Pomplamoose and wrote the soundtrack to the Emmy nominated HBO documentary, Packed in a Trunk: The Lost Art of Edith Lake Wilkinson.
Born and raised on the Big Island of Hawaii, 13-year-old Kris Fuchigami began his musical journey with an old, beat up ukulele in his hands and a strong desire to master that tiny little instrument. Two years later Kris won the grand prize at the Hamakua Music Scholarship Competition on the Big Island where he competed against classical pianists, singers, drummers, and many other genres of musicians. Kris went on to headline, and perform at many ukulele festivals and has gained recognition throughout the world.
Del Rey started playing guitar when she was four years old. At thirteen, she was immersed in the world of folk music, via the San Diego Folk Festival. Rags, blues and tunes of the early 20th century are her specialty, even as she writes new music to add to the tradition. Del Rey also has a fashion sense that would make Minnie Pearl smile.
Del Rey has taught and played all over the world, and brings her distinctive finger-style approach to guitar and ukulele to her teaching DVDs on Homespun Boogie-Woogie Guitar, The Music of Memphis Minnie, Memphis Uke Party and Blue Uke.
The Birdwatchers are a unique acoustic trio who specialize in an equally particular instrument: the ukulele. Kim Bjerga, Clark Holmes, and Andy Nufer have carved out a niche for themselves in their local music scene, and for good reason. Their tight, three-part harmonies, combined with interestingly composed arrangements are refreshingly diverse, both in musicianship and content. With various ukulele ranges (tenor, baritone, and bass ukulele, as well as guitar), the three have managed to produce a wide, varied sound, and with an equally varied set list, The Birdwatchers are bridging musical gaps for all ages and ears.