Description
SOLD OUT!
We currently do not have any more tickets, but we will be checking with those who responded to make sure they will be attending.
The response to this event has been overwhelming. We are honored by the support the Denver community has demonstrated already.
If you're looking to attend this event, please sign up on the Denver Bunker Labs page and we will be notifying people of additional availability.


---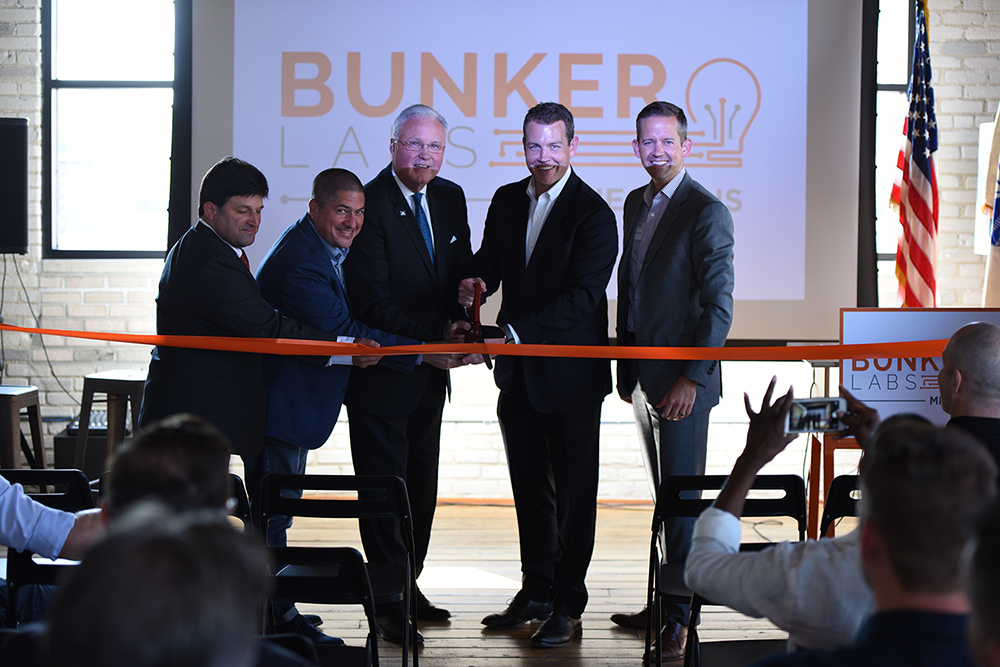 2016 Ribbon cutting ceremony at the official opening of the Bunker Labs Chapter in Minneapolis, Minnesota

---
You are invited to a ribbon-cutting ceremony to mark the official opening of the Denver chapter of Bunker Labs. Ryan Harris, Super Bowl 50 Champ, and Todd Connor, CEO of Bunker Labs, are just two of the honored guests and speakers. Come network and celebrate the newest addition to Denver's entrepreneurial ecosystem.
This event is for you if you're interested in meeting like-minded, action-oriented entrepreneurs and learning more about veteran-created companies in our community.
This event will be hosted at WeWork Tabor Center.
Speaker Bio
Melissa Pros: Melissa is an Air Force veteran and the Founder + Tour Curator at Sips of Adventure. Aside from traveling, her passion is to bring the love of wine & adventure together in expertly curated tours that showcase the best of European & Eurasian hospitality, wine, food, & culture. Melissa is also the Community Manager at Bunker Labs NYC, where she promotes membership, followership, and engagement via social media for Bunker Labs NYC chapter. Supporting NYC-based veteran entrepreneurs educational programming, access to resources, and a thriving local network to help military veterans start and grow businesses.
Ryan Harris: Super Bowl 50 Champion Ryan Harris is a 10 year veteran of the NFL. Ryan was drafted by the Denver Broncos in 2007 as an offensive tackle. Ryan left Denver for a few years and continued his career with the Houston Texans and Kansas City Chiefs. He then came back to Denver and played left tackle in the Broncos' Super Bowl 50 Championship year. Most recently Ryan was with the Pittsburgh Steelers before retiring at the end of the 2016 season. Ryan played college football at the University of Notre Dame, where he graduated with two degrees, one in Economics and Policy and the other in Political Science. Ryan is a practicing Muslim, from Minnesota, and currently resides with his family in Denver, CO. Off the field, Ryan believes that together we can change the world. He believes that "It is your right to be extraordinary." That when we embrace that right, we create positive change in the world. Through our commitment to educating ourselves, invest in our communities and act on our passions, real change happens.
Todd Connor:
Todd is the CEO and Founder of Bunker Labs, a national entrepreneurship organization dedicated to helping military veterans start and grow businesses. Founded in 2014 at 1871 in Chicago, Bunker Labs has grown to locations across the U.S. through a chapter affiliate model, with further expansion plans underway with a goal to have a presence in all 50 states. Bunker Labs works to support military veterans by creating locally thriving networks, robust educational programs, and platforms for military veteran entrepreneurs to connect with the people and the resources they need to be successful with early-stage ventures. Todd Connor is a former management consultant, U.S. Navy veteran, and has held many leadership roles in the public and private sector. He is a two-time entrepreneur and the founder of The Collective Academy. Todd holds a BA from Northwestern University, an MBA from the University of Chicago previously served as a Senior Administrator at Chicago Public Schools, and is the author of two books on leadership and personal strategy. He is a Commissioner of the Cook County Commission on Human Rights, was honored as a 2015 Crain Chicago Business 40 Under 40, winner of the Chicago Inno 50 on Fire award, and is a 2016 Presidential Leadership Scholar.
Todd Connor

Bunker Labs

CEO

Ryan Harris

Super Bowl Champion & Entrepreneur




Melissa Pros

Sips of Adventure

Founder Tour Curator