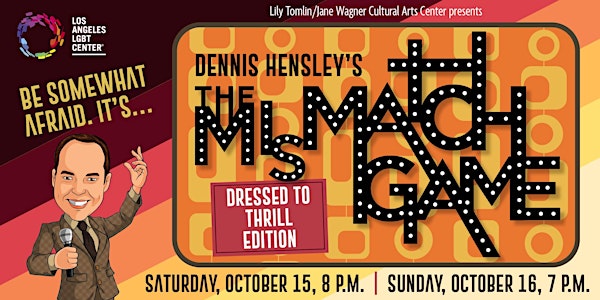 Dennis Hensley's THE MISMATCH GAME! The Dressed to Thrill Edition
Location
The Village at Ed Gould Plaza
1125 N McCadden Pl.
Los Angeles, CA 90038
Be somewhat afraid! It's… Dennis Hensley's The MisMatch Game, the "Dressed to Thrill" edition!
About this event
Just in time for spooky season...the long-running comedy hit returns to the Renberg for two nights of R-rated game show insanity. Join host Dennis Hensley and a panel of L.A.'s most twisted comedic minds as they skewer celebrity culture as only a sextet of comic actors with fresh Sharpies and no Fs left to give can. With questions pulled from today's headlines and contestants pulled from the audience, you never know what's going to come out of anyone's mouth at any time…but you know it's gonna be funny.
Before there was Snatch Game, there was The MisMatch Game. Guaranteed to make you laugh your ______ off.
Age recommendation 13+
Content/Trigger Warning Strong language and adult humor
Proof of Covid vaccine and ID required.
Masks required in all indoor spaces.
Vaccine Documentation:-ID*-Physical Vaccine Card/Digital Vaccination Record/App with Record*We understand that the name on your vaccination card, may not always match your legal ID. If you have any supplemental documentation, you can provide that as well.
Need to obtain a digital copy of your vaccine records? If you got your vaccination in the state of CA, then you should be able to find and download them here:https://myvaccinerecord.cdph.ca.gov/
Free App for Vaccination Records on Phones:https://healthvana.com/digital-vaccination-records/
PARKING
Parking is available in our underground facility, located across the street from The Village at 1118 N. McCadden Place. It's the first driveway north of Santa Monica Blvd on the east side of the street.
Above the entrance is the word PARKING spelled in rainbow letters.
Turn left at the bottom of the driveway, proceed to either P1 or P2, and find a parking spot.
At the north end of P1 and P2 is a bright green wall with large white letters: ELEVATOR TO PLAZA.
Take the elevator to Level 1R. That lets you out in the Bayard Rustin Plaza. The entrance to The Village is directly across the street.