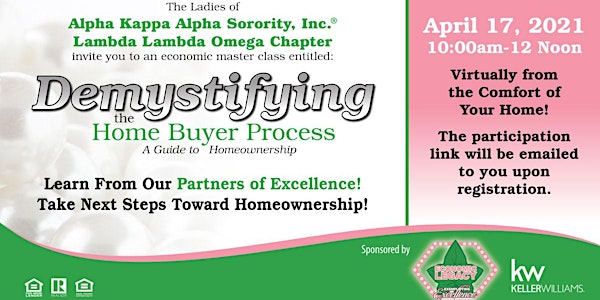 DEMYSTIFYING THE HOME BUYER PROCESS: A Guide to Homeownership
Demystifying the Home Buyer Process: A Guide to Homeownership
About this event
Alpha Kappa Alpha Sorority, Inc. | Lambda Lambda Omega Chapter
We are hosting a home buyer Master Class just for you! Join us virtually from the comfort of your home and learn from our Partners of Excellence!
This is a FREE SEMINAR to persons seeking an overview of the home buyer process from A-Z. Our partners will inform you of their respective roles/expertise and answer any questions you may have. From the first-time home buyer to the custom builder, we've got you covered!
As our seminars yield high attendance with limited virtual space, we strongly encourage you to "commit" to your participation on Saturday April 17th and claim your seat by registering today! Participants will have an opportunity to win virtual door prizes via registration and attendance.
Who Should Join Us?
• Persons Seeking to Better Understand and Navigate the Homeownership Process from A-Z (Realtor, Lender, Builder, Inspection, Appraisal, Home Warranty, Home & Flood Insurance, Closing Attorney/Settlement Company, Grants/Closing Cost Assistance)
• First-Time Home Buyers, Engaged Couples/Newly Weds, Persons Seeking to Understand the New Construction/Custom Build Process, All Interested Parties
• Persons in Need of an Understanding of Virginia Law, Agency, the Importance of Having Your Own Representation/Realtor
• Persons Seeking to Understand the Lending Process, Loan Types (FHA, Conventional, VA, Physician/Jumbo Loans), and the impact of Credit Scores and School Loans
• Persons Seeking to Understand the Home Warranty and Homeowners Insurance Process
Learn from our Partners of Excellence
Maxine Lambert, Associate Broker/Realtor | Luxury Homes By Lambert (LHL) | Keller Williams Realty West
Cierra Mays, Housing Program Manager | Jim Chambers, Jr., Director of Housing Development Programs | Southside Community Development & Housing Corporation
Brette Bonniwell, NVR Mortgage Sales Manager NMLS #190748 | NVR Mortgage Ryan Homes
Barbara Woodburn, VP Mortgage Loan Officer NMLS #405046 | BB&T/SunTrust now Truist
John Waters, President | Biringer Builders (Custom Builder)
Katy Allenbaugh-Richards, Senior Account Executive | Cinch Home Services
Scott Wharton, Inspector | HouseMaster Home Inspections
Wayne Collier, Residential Appraiser | Collier's
Marly Santoro, Manager of Outreach and Education | Virginia State Corporation Commission-Bureau of Insurance
Faisal S. Qureshi, Real Estate Attorney | Chaplin and Qureshi, PLC
Seating:
You may invite and register up to five (5) guest (each individually) who are committed to learning about the home buyer process, so to allow room for others to participate in the virtual setting.
Disclaimers:
This communication is provided to you for informational purposes only and should not be solely relied upon. Keller Williams Realty is not a mortgage lender. Contact BB&T/ SunTrust now Truist or NVR Mortgage directly to learn more about its mortgage products and your eligibility for such products. If your house is already listed with an agent, this marketing piece is not intended to solicit that listing. This is not a commitment to lend.
LHL contributes to non-profit organizations through its "Changing Lives One Home At A Time" initiative via closed home transaction sales. This initiative covers the following areas: Education, Autism, Alzheimer's, Global Hunger, Missions, and The Arts! The "Feather Rufflers for Policy Change" initiative also address Voting Rights and School Loan Elimination Nationwide in partnership with various organizations.
"Demystifying the Home Buyer Process: A Guide to Homeownership " is a branded/Service Mark to LHL with approved use for this event.
Thank You:
We are walking RVA through the home buyer process while "Bridging the Wealth Gap" through homeownership in RVA (and ultimately America). Thank you for your commitment to the process. We appreciate your participation, support, and for affording us an opportunity to serve.
Please register, invite a friend, and take this moment to add Saturday April 17, 2021 from 10:00am-12 Noon to your Calendar! Enjoy the Experience!