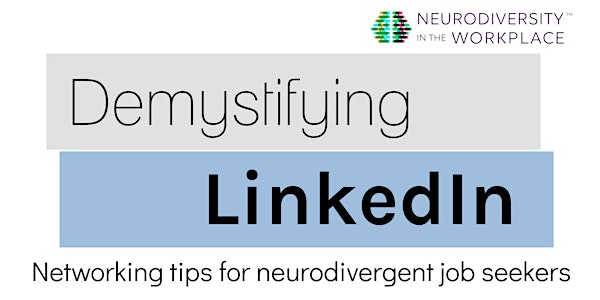 Demystifying LinkedIn: Networking tips for neurodivergent job seekers
Unlock the potential of LinkedIn to reach your next career opportunity
By Neurodiversity in the Workplace™
Date and time
Thursday, March 25, 2021 · 11am - 12:30pm PDT
Refund Policy
Contact the organizer to request a refund.
Eventbrite's fee is nonrefundable.
About this event
LinkedIn is more than just another social network—it's the single most powerful online tool for job seekers. In fact, 87 percent of recruiters report using LinkedIn to find and vet candidates for their companies. But navigating the platform can be complicated, with its unspoken rules and etiquette, and standing out among millions of candidates requires some insider knowledge.
Join the Neurodiversity in the Workplace team, fellow neurodivergent job seekers, and inclusive employers for actionable tips to help you make the most of LinkedIn.
Key Topics
This webinar is your in-depth guide to leveraging LinkedIn as a job seeker. Topics will include:
Profile creation and the role of each component, from headline and summary to experience and endorsements
Best practices for networking, including direct messaging, evaluating which connections to make, and how to engage your contacts in your job search
Search algorithms and optimization to increase your visibility and opportunity to connect to recruiters
Expert Panel
You'll hear from a panel of experts including company recruiters, neurodiversity hiring program managers, and neurodivergent employees. They will share their first-hand experiences, ideas, and strategies on how to use the power of LinkedIn to launch your career or land your next job.
Danielle Biddick, Sr. Advisor, Diversity Talent Acquisition, Dell Technologies
Danielle Biddick is a Senior Advisor in Diversity Talent acquisition at Dell Technologies. In her role she leads Dell's diversity talent acquisition pillar for individuals with disabilities and oversees Dell's Neurodiversity Hiring Program. Prior to her role at Dell, Danielle worked for the non-profit organization PROVAIL, where she program managed PROVIAL's partnership with the Microsoft Autism Hiring Program and HP's Spectrum Success Program.
Mandy Ching, Talent Acquisition - Diversity, Equity & Inclusion Team, VMware
Mandy is a Talent Acquisition Manager over the Diversity & Inclusion team at VMware and is the Program Owner for the company's Neurodiversity Inclusion Program. She has been in the Talent Acquisition industry for close to 10 years as a recruiter, program manager and people manager. Her master's degree in Biocultural Anthropology has given her the foundation necessary to understand how biology affects individual's reactions to different environments and cultures, and has provided her the opportunity to develop unique mechanisms to provide real-world solutions to challenges.
Mandy has a passion for diversity & inclusion work, and is continually partnering with people both inside and outside her company to develop new programs and projects to provide all individuals the opportunity to find success in their job searches. From application, to interview, as well as job offer and new employee onboarding, she knows the most successful programs are the ones that reduce bias, provide accommodations, and allow people to bring their most authentic selves into the professional workplace
Sydney Fong, Event Sourcing Specialist, VMware
Robert Schmus, MSW, LCSW, Clinician, Youth Consultation Services
Robert Schmus, MSW, LCSW serves as a clinician at Youth Consultation Services. In his practice, Robert supports adolescents with developmental disabilities, including autism, utilizing a variety of therapeutic interventions. As a self advocate, Robert brings his refreshing, insightful perspectives as a clinician and a person with autism to his presentations, providing helpful information to families, those with autism and other neuro-diversities, as well as people who support them.
He holds degrees from Concordia College of New York and the University of Pennsylvania School of Social Policy and Practice and is licensed in both New Jersey and Pennsylvania. He serves as a board member of ASCEND (Autism & Asperger's Alliance of Greater Philadelphia) and in an advisory capacity for the A.J. Drexel Autism Institute of Philadelphia. Robert has also been appointed to be on the Alumni Association Board of Directors at Concordia College of New York.
Robert regularly contributes to The Mighty, writing on important topics ranging from addressing the struggles individuals with autism can experience with anxiety to growing leadership and advocacy within the autism acceptance movement. Robert is eager to expand his advocacy through speaking engagements. Robert has given talks at national conferences and events, and has been interviewed by various YouTube channels and podcasts. It should also be noted that he and a colleague have created a motivational speaking firm known as Schmus & St. Clair.
Accessibility
Closed captioning (CC) and live transcript will be available.
Call-in option available.
Slides, transcript, and captioned recording are available after the event, upon request.
Key takeaways will be sent to all attendees. Easy read and plain language versions available.
If there are any additional accommodations you will need to access this event, please contact us at bmcelroy@nitw.org.

Founded in 2013, Neurodiversity in the Workplace is a pioneering, nonprofit consultancy and training provider that connects inclusive companies with highly qualified neurodivergent talent. Our skill-based hiring programs eliminate bias, deliver a 98% retention rate over five years, and include ongoing support for both neurodivergent employees and their managers and teams.
Our growing list of neurodiversity hiring partners include Dell, SAP, VMware, Lincoln Financial Group, and Thermo Fisher. Interested in working with us? Email us at neurodiversity@nitw.org.
Learn more at nitw.org.