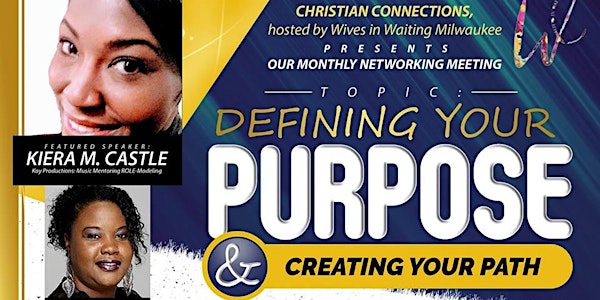 Defining Your Purpose November 19th , 2018 Christian Connections & Cupcakes...
Location
On The Bayou
2053 N Doctor M.L.K. Dr
Milwaukee, WI 53212
Sales Have Ended
Ticket sales have ended
We are excited to meet you all, but wanted to answer a few commonly asked questions, so you know what to expect. 1) Who is hosting this event ? a. This monthly event is a hosted by Christian Connections in partnership with Wives In Waiting, sister circle Milwaukee b. To find out more please visit the websites i. www.cccnetwork.org ii. www.wivesinwaiting.com 2) Can I bring my children with me? a. Although we love children, this event is gear for women only, due to space and purpose of the event we ask that you do not bring your children with you. 3) I don't have a business can I come? a. YES, this event is for all women of faith to join together share and grow, no matter if you are an entrepreneur or working in the market place. We can all benefit from each other. 4) I don't go to church "Like That" is this open to me as well? a. YES!! The foundation of this ministry is our Faith, Trust, Biblical Principles and Personal Relationship with God. We understand that everyone's relationship may not be the same. So no matter where you are at in your personal walk, we invite you to come join us. It is our prayer that everyone's personal journey will grow to the next level, both naturally and spiritually. 5) I am introvert and not really comfortable with the networking part. a. We invite you to still come, and we need you in the space as well. A part of growing is sometimes being in situation that will allow us to push past our comfort zone. Networking and connecting is for everyone, we want everyone comfortable but we also know that on the other side of fear lays our success. The spirit if this event is sisterhood, support and connections. No one person has it all, but together we can accomplish that which we were created to do. Keep that in mind and know that is the statement that is at the heart of our WHY. Christian Connection is just the vehicle we are using to empower that which already exist.
Description
It's Time to NETWORK!!!
Please Join Us Once a Month on a Monday as we host our official " Christian Networking Group" called Christian Connections & Cupcakes in partnership with WIW.
** THIS EVENT IS OPEN TO ALL WOMEN (SINGLE OR MARRIED)
This Month meet us on Monday, November 19th , 2018
From 6:00pm-7:30pm
Location : On The Bayou
2053 N Doctor M.L.K. Dr, Milwaukee, WI 53212
In November we will spotlight:
Featured Speaker: Kiera M. Castle, Kay Productions: Music Mentoring ROLE- Modeling
Topic:Defining Your Purpose
Also, we will have a WORD of Empowerment from:
Rev. Mya A. Phillips-Robinson

Don't miss this! Invite a friend!
#KingdomConnections
What to Expect:
- Establishing a mutually beneficial relationship
- Conncetion with other like minded leaders
- Meet NEW people
- Fun
- Sharing knowledge and experience
- Much more
For questions please email christianconnections17@gmail.com
https://www.cccnetwork.org/