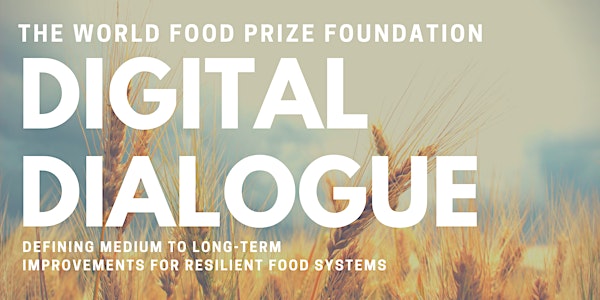 Defining Medium to Long-Term Improvements for Resilient Food Systems
Digital Dialogue Series: Elevating Innovation and Inspiring Action to Achieve Food for All
About this event
This Digital Dialogue addresses critical issues for a resilient global food system. In this session, experts look to the medium to longer-term needs for reshaping the food system, especially as espoused in numerous global calls to action and open letters in circulation. For example, recently world leaders called to design COVID-19 response measures to minimize the risks of the pandemic's impact on food security, and take action in three key areas: maintaining global food trade, supporting the vulnerable, and investing in sustainable, resilient food systems.
An open letter to the G20 and UN now calls for addressing the inter-related challenges of hunger, malnutrition, climate change and environmental degradation, emphasizing the need for concerted, proactive and collective actions. "As the leaders of the powerful and rich nations try to limit the damage of COVID-19, we must not forget the actions needed now to ensure that there will be food and nutrition for the poorest and the weakest members of the human family," said Ismail Serageldin, Emeritus Librarian of Alexandria and signatory to the open letter.
Featuring:
Louise Fresco, President, Wageningen University and Research; World Food Prize Council of Advisors
Agnes Kalibata, President, AGRA; Special Envoy of the UN Secretary-General for the 2021 Food Systems Summit
Purvi Mehta, Head - Agriculture Development for Asia, Bill & Melinda Gates Foundation; World Food Prize Council of Advisors
Per Pinstrup-Andersen, Professor Emeritus, Cornell University; 2001 World Food Prize Laureate
Ismail Serageldin, Emeritus Librarian of Alexandria; World Food Prize Council of Advisors
The World Food Prize Foundation is pleased to present the second edition of the Digital Dialogue Series. Join us!
Visit www.worldfoodprize.org/DigitalDialogue for more information