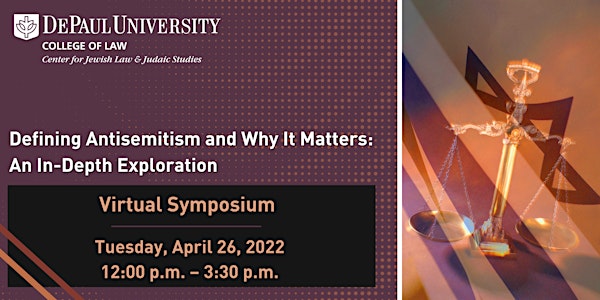 Defining Antisemitism and Why It Matters: An In-Depth Exploration
Defining Antisemitism and Why It Matters: An In-Depth Exploration Virtual Symposium
About this event
Join us on our journey to define antisemitism. Why? Hate crimes against Jews have been on the rise over the past few years, and we believe that reaching an understanding of what antisemitism truly means is the first step in identifying ways to combat it.
The agenda for our 3.5-hour virtual symposium includes:
1. An in-depth exercise designed to
• explore the debates about the most widely adopted definition of antisemitism along with several alternatives;
• evaluate the criticisms of the proposed definitions; and
• consider the practical impact of having a definition and its uses.
2. Breakout sessions where attendees participate in discussions moderated by members of the DePaul College of Law Center for Jewish Law & Judaic Studies Advisory Board and provide input and feedback while examining the importance of defining antisemitism.
3. A closing keynote address, "The Importance of Defining Antisemitism," by Bret L. Stephens of The New York Times.
Featured Speakers
• Steven H. Resnicoff, Professor and Faculty Director, DePaul College of Law, Center for Jewish Law & Judaic Studies
• Rabbi Andrew Baker, Director of International Jewish Affairs, AJC
• Marc D. Bassewitz, Chief Compliance Officer and General Counsel, Vivaldi Capital Management LLC
• Carly F. Gammill, Director, Center for Combating Antisemitism, StandWithUs
• David H. Levitt, Partner, Hinshaw & Culbertson LLP and Chair, JLJS Advisory Board
• Kenneth L. Marcus, Esq., Founder and Chairman, The Louis D. Brandeis Center
• Rabbi Dr. Mark Goldfeder, Esq., Director, National Jewish Advocacy Center
DePaul College of Law is an accredited MCLE provider, and attorneys licensed in the State of Illinois may receive CLE credit for attending this program. The application is currently pending approval.
Co-Sponsored by:
AJC
Alums for Campus Fairness (ACF)
Aronberg Goldgehn
Chicago Loop Synagogue
Decalogue Society
Hinshaw & Culbertson LLP
Jewish Graduate Student Initiative
Katten
Latham & Watkins LLP
The Louis Brandeis Center
Quarles & Brady LLP
Scholars for Peace in the Midwest (SPME)
Simon Wiesenthal Center
StandWithUs
Thompson Coburn LLP