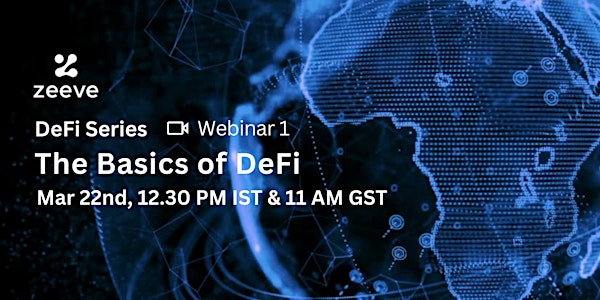 DeFi Series - Webinar 1 - The Basics of DeFi
Join us in this series of webinars, where we'll be unraveling all that the idea of decentralized finance/DeFi
Date and time
Wednesday, March 22 · 12 - 1am PDT
About this event
Be a part of the upcoming series of highly insightful webinars, where we'll be unraveling all that the idea of decentralized finance/DeFi - one of the most ground-breaking trends in the financial technology space implies today. This is a series of 4 webinars that will give you a complete insight into DeFi & its various dimensions.
DeFi Series - Webinar 1 - The Basics of DeFi
DeFi Series - Webinar 2 - The Core Components of DeFi (Date to be announced)
DeFi Series - Webinar 3 - The DeFi Use Cases (DEX, Lending) (Date to be announced)
DeFi Series - Webinar 4 - The DeFi Use Cases (Tokenization, Stablecoins, Derivatives, Prediction Markets) (Date to be announced)
Description:
DeFi combines cryptography with finance & software development all wrapped up in jargon that can be a little difficult for beginners to understand without some background knowledge on the subject matter beforehand! This series is an attempt to shed light on the next generation of financial services that operate as an automated process, developed on a blockchain & show potential of totally revolutionizing the way financial activities are carried out in the present day.
The first webinar of the series will cover the basics of DeFi – what it is about, its origin, how it is different from CeFi problems that it solves, core components of DeFi, its uses & benefits in the first of many series on DeFi.
Speaker - Ravi Chamria:
He is the CEO & co-founder of Zeeve. He has an experience of 18+ years in IT consulting spanning across Fintech, InsureTech, Supply Chain & eCommerce. He is an executive MBA from IIM, Lucknow & a prolific speaker on emerging technologies like Blockchain, IoT & AI/ML. He specializes in Strategic Management, Technology Innovation & Product Management. He believes in radically simplifying the entire process of blockchain deployment and launching nodes effortlessly, whether it's permissioned or public, in as short a time as possible. He has been helping enterprises adopt and manage blockchain technology through innovative products and solutions.
Who this DeFi 1st Series is for:
Beginners, financial heads, people with interest in interesting financing concepts & all those who want to explore the exciting space of DeFi and get empowered with the right knowledge about how the DeFi Ecosystem built on blockchain technology will revolutionize the way we do business!
Individuals who want to get deeper insights into the relevant financial concepts & also get more in-depth knowledge about DeFi ecosystem basics.
People interested to understand the evolution of finance, how the Decentralized exchanges work & how the smart contracts supplement DeFi
People willing to get a better understanding of this financial trend can also gain insight on the limitless possibilities that have been thrown open in the financial world by DeFi.
People interested in examining the core construct of the DeFi ecosystem.
Individuals who want to get an insight into the advantages of DeFi.
Who this is not for:
People who are looking for a quick money-making scheme & how to make instant profits from components & infrastructure basics of decentralized financing.
People who are looking for specific tips, strategies on how to earn from digital transactions, swap, & so on.
What you will learn:
The blanket term of Defi covers a wide range of new financial systems & products that are unique ways to help people manage their finances in a highly secure, reliable, transparent & also autonomous manner.
Who makes up the DeFi ecosystem?
How the decentralized financial instruments built on top of the blockchain networks & smart contracts would take on the key challenges of the centralized financial world as we know.
A comparison of CeFi vs Defi can help viewers understand the key problems that DeFi attempts to solve.
A sneak peeks into the uses & benefits of DeFi & the evolution of finance.
Uncover the myths about DeFi.
What We Will Cover:
An understanding of what DeFi is, how they work, a comparison of CeFi & DeFi & how the use cases of DeFi stand to transform the financial landscape.
The kind of exciting opportunities that DeFi throws up.
Understand the key reasons for the emergence of the need for a decentralized financial ecosystem. In short, a macro view of where we have been & what lies ahead of us.
The evolution of finance is covered as part of the first series on DeFi-Basics of DeFi.
A look into the core construct of the DeFi ecosystem
A glimpse of the pressing challenges that the DeFi ecosystem attempts to solve & make businesses efficient, secure & reliable.
Uses & benefits of DeFi.
Prerequisites:
No prior background in blockchain, finance, NFTs, stablecoins, CeFi, or prior knowledge of programming is required. All that is needed is a desire to learn & a willingness to see the entire scope of the changes & opportunities brought forth by DeFi.