A comprehensive introduction to decentralized finance tools in the cryptocurrency ecosystem.
About this Event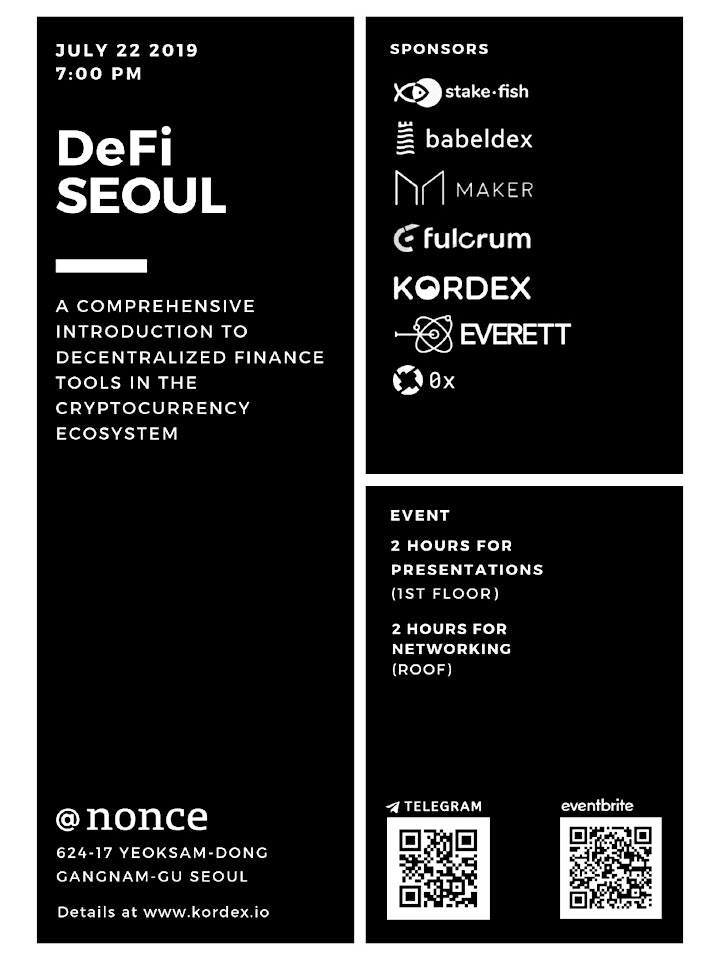 Join us for an evening of talks and networking with blockchain projects paving ways into accessing the DeFi ecosystem.
Learn how decentralized finance primitives and tools are replacing today's traditional financial stack.
➡️ Schedule of Events
7:00 - Near and yet so Far:DeFi(for korea) - See Eun, nonce
7:20 - Educational on-boarding into DeFi - Shaan Bhagat, Kordex
7:40 - Decentralized exchanges -  Daniel Hwang, Kordex; Jacob Evans, 0x
8:00 - Collateralized Debt Positions - Doo Wan, MakerDAO
8:20 - Margin Trading and Lending - Kyle Kistner, BZX, Fulcrum
8:40 - Staking is part of DeFi - Junsoo Kim, stake.fish
9:00 - A Proposal to Eliminate DApp Ecosystem Bottlenecks - Ryan Kim, Everett
9:20 - Networking session
◾️nonce
nonce is a co-living, co-working community located in Seoul, Korea. We are a physical basecamp for independent business units and self-sovereign individuals dedicated to blockchain and decentralization. Our mission is to curate, connect, cultivate trustworthy people building trustless technologies.
Website: https://www.nonce.community/
◾stake.fish
stake.fish is a reliable validator for Proof-of-Stake blockchains. We are a globally distributed team that have come together to provide the best infrastructure for projects and stakers. We also work with fellow validators and staking enthusiasts to share knowledge and educate the community on staking!
Reach out to us if you want to learn more about us or staking in general. We know validating.
Website: https://www.stake.fish
◾️Kordex
Kordex is an educational on-boarding platform for cryptocurrency. It includes on-boarding resources for people new to the space as well as active participants who are interested in learning about new applications and tools. We provide a learning gateway for access to decentralized exchange, decentralized finance tools, and a community-based content forum.
Website: https://www.kordex.io
◾️0x
0x is a decentralized exchange protocol built with ethereum. The 0x protocol is a set of unified standards that encompass a set of smart contracts and messaging formats for the exchange of tokens or digital assets. 0x protocol makes it simple to build decentralized exchanges with its open source infrastructure.
Website: https://www.0x.org
◾️MakerDAO
MakerDAO is a decentralized lending protocol built on the Ethereum blockchain that facilitates automated lending and creation of the stable coin Dai.
Website: https://www.makerdao.com
◾️Fulcrum
Fulcrum is a tokenized margin lending and trading platform built on the Ethereum blockchain. The fulcrum platform supports lending, leveraging, and shorting of ETH, wBTC, ZRX, KNC, BAT, REP, DAI, and USDC. The platform enables users to lend assets for interest or enter into short/leveraged positions.
Website: https://www.fulcrum.trade/
◾️Everett
Everett is a web as a protocol for creating tradeable tokens backed by staking positions. Everett aims to solve Defi DApps ecosystem to eliminate bottlenecks on current PoS consensus. It's implementation on Cosmos, bATOMs has won first place on hackatom Seoul.
Website: http://www.everett.zone