Description
The Defense Innovation Voucher program (DIV), presented by Booz Allen Hamilton is a comprehensive business initiative, designed to build resiliency in small to medium sized San Diego-based defense companies. Fifteen diverse companies were chosen to participate in the 2018-19 program, each receiving an initial $15,000 grant.
On Thursday May 23, five of the 15 defense companies - EpiSci (EpiSys Science, Inc.), Fuse Integration, Inc., GET Engineering Corporation, Planck Aerosystems, and Trabus Technologies will compete for an additional $25,000 in funding to help them continue to grow their business.
The catch? These companies will be looking to YOU, the attendee, to vote on who deserves the extra cash based on their public pitch.
In addition to a public pitch there will be opening remarks provided by Booz Allen Hamilton, EDC, the City of San Diego and other key program sponsors.
Speakers
Marisa Silva, Principal at Booz Allen Hamilton
Christina Bibler, Director Economic Development Department, City of San Diego
Mark Balmert, Executive Director, SDMAC
Agenda
9:00 - 9:30 AM - Registration
9:30 - 11:30 AM - Pitch Fest presentations & voting by attendees


DIV 2018- 2019 Cohort
1. Accel-RF Instruments Corporation is the world leader in supplying equipment for performing high temperature, long-duration reliability testing on compound semiconductors. Accel-RF's test equipment has been an enabler for the successful technology development, product launch, and industry adoption into the space, military, and commercial wireless markets.
2. Amaratek delivers research and development services for Defense and Homeland Security. Initially providing contract services to the U.S. Department of Defense, Amaratek developed a biological system for the neutralization of chemical weapons and delivered a working system to the U.S. Army.
3. American Lithium Energy Corporation was founded in 2006 to develop and commercialize high performance, next generation lithium ion (Li-ion) battery technologies for demanding military and commercial applications.
4. Coast Precision Enterprises, Inc. has specialized in the manufacturing of precision-machined components for more than 38 years. Coast Precision manufactures its products for use in aerospace, medical, power, defense, and commercial industries.
5. EpiSci (EpiSys Science, Inc.) founded in 2012, envisioned that future disruptive innovations would be derived from the paradigm of systems science. Through its deep technical expertise in multiple emerging areas, they develop the most innovative systems solutions for defense, intelligence, and commercial applications.
6. Fuse Integration, Inc. was founded with a noble cause of bringing the benefits of commercial human-centered design processes to first responder and military systems engineering. Fuse is working hard to lead the charge with an agile approach to development and a rapid prototyping ethos for the way they build systems.
7. GET Engineering Corporation is a leading edge, high technology engineering firm providing tactical data solutions to government and industrial clients. GET is a small business dedicated to providing the U.S. Department of Defense and its coalition forces the most cost effective tactical communication products and solutions available.
8. intelliSolutions, inc. has provided outstanding SME, engineering, and program management support to the Department of Defense. The company has extensive past performance experience and its personnel have specialized military backgrounds and advanced subject matter expertise in satellite communications, tactical data links, and maritime surveillance.
9. Marine Group Boat Works, LLC provides highly specialized services including new construction, custom metal fabrications, and emergent work repairs for vessels ranging from range training support crafts, workboats, tugboats, and barges.
10. Ocean Aero provides customers a new level of surface and subsurface versatility with wind and solar-powered autonomy and self-sufficient maritime robotics.
11. Planck Aerosystems combines artificial intelligence, advanced controls, computer vision, and rigorous testing to enable drones to be able to operate from moving platforms and execute fully autonomous missions. Their customers include government agencies and commercial maritime operators.
12. Sidus Solutions innovative design and advanced technology has positioned them to be a global leader in pan & tilt and rotator manufacturing. Sidus Solutions' subsea cameras, lights, and lasers are designed put eyes wherever you need them. They are also a complete service provider of robust security and surveillance systems.
13. Trabus Technologies is a high-tech IT and engineering corporation that continues to expand its impressive portfolio of capabilities, programs, and services. Trabus Technologies thrives on practical solutions to the toughest challenges in cyber, wireless, and unmanned systems.
14. VetPowered, LLC seeks to increase their customers' competitive advantage with a veteran and wounded warrior workforce highly trained in digital manufacturing thread, welding/fabrication, machinery repair, and customized training.
15. Vortex Engineering has over 13 years of experience in the construction and fabrication of a broad size and range of components for aerospace, surface ship, and submarine categories.

Propel San Diego Partners: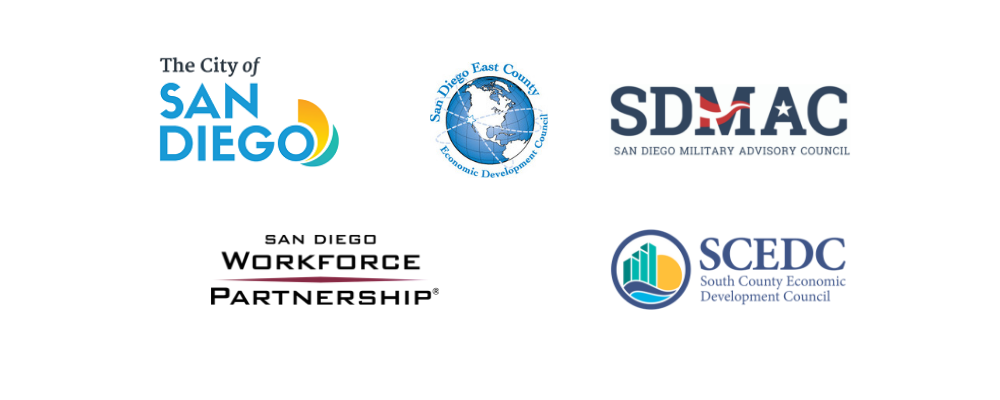 Background on Propel
Propel San Diego is a Department of Defense (DoD) funded grant initiative led by the City of San Diego, South County Economic Development Council, San Diego Regional Economic Development Corporation, East County Economic Development Council, and the San Diego Military Advisory Council. The goal of this effort is to better understand the needs and opportunities for regional businesses that conduct defense related work. Additionally, Propel San Diego aims to develop a resilient defense supply chain in the San Diego region that remains stable despite changing budget priorities, and addresses both regional economic and DoD readiness priorities.
This project is funded with Community Economic Adjustment Assistance for Reductions in Defense Industry Employment funds provided by the U.S. Department of Defense Office of Economic Adjustment to the City of San Diego.