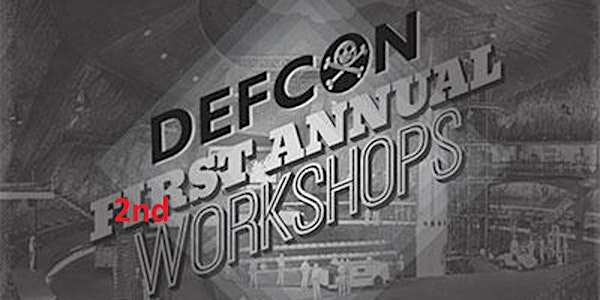 DEFCON WORKSHOPS 2016 - HACKING with Raspberry Pi and Kali (THUR Aug 4 ONLY)
When and where
Location
3rd floor of Ballys South tower, The Jubilee Tower. Las Vegas Ballrooms 1-7. LAS Vegas Ballroom 4 - Defcon Badge Required 3645 S Las Vegas Blvd Las Vegas, NV 89109
Description
Back by popular demand. This year will be a tight 4 hour run through of lots of great information. There will be 2 classes (both the same) of 4 hours each [morning and afternoon] – so pick the best one for you. This class is appropriate for ages 15 and above who want to learn more about Raspberry Pi hardware and the Kali security framework. Kali is a combination of operating system and hacker security tools used for security testing (spying as well). If you choose the kit, you will leave with an excellent starting point for hardware, robotics, spying, and security fun. Space is limited, so sign up quickly. Note choose each type of ticket that works for you. We will adjust quantities as we get closer, so check back if its sold out. SEE UPDATE BELOW
Cutoff is July 15 for kits (SOLD OUT 7/12 - except late). We will also be inviting guest speakers / hardware village / vendors (if available) to drop by and say hello during class who are key to the Raspberry Pi / Maker movement and Kali / Metasploit frameworks. You never know what new release or feature might show up. A Laptop is required. See sign-up information below for more information of pre-installed tools needed. We will also email this out to registered guests as well.
In four hours we will cover the Raspberry Pi including:
History / hardware in kit
Installing the OS
Python Programming (Intro, Hello World, Hardware Interfacing options)
Controlling LED's (Light up LED, Loops, timer)
Controlling Multi Color Led Strips (1000's of colors) – Different type of LED
Distance and Motion Sensors (detecting motion / Distance) – Interface a sensor
Sensors (Advanced)
Controlling Relays (Controlling real world objects, motors, lights)
Interfacing to the outside world
Updating components of the OS
Introduction to Kali (Pen testing platform)
Updating Kali OS / Components
Kali command set tools on the Rpi
Using tools to spy on your target
Modules to install on Kali (discussion of Metasploit)
Networking (Discovery / Setup)
Wireless Networking
Social Media Spying
Sniffing Wi-fi and setting up multiple adapters
Penetration testing overview and discussion
Uses for Physical Security
Discussion of the Role of Rpi and Kali / Security
Discussion and kits provided for Kali also on your PC (Distro)
Optional (camera and vision)
We will have options for people who want to bring their own or just buy a kit. Keep in mind, if you bring your own and dont bring everything - it may not work. We wont have time to work around your specific configuration. This workshop is free, however you need a ticket and a defcon badge to attend. The kits are not free. If something goes wrong and the conference is cancelled, then you will get the kit and documentation. If something bad happens during the workshop (lose power, kicked out, no wifi, whatever) - sorry, its free (the workshop), but you will still have the kit if you bought that type of kit.
Strongly recommend the Afternoon class if possible, it should have any bugs worked out with power, internet, seating, etc. We arrive early to set everything up, but its defcon and things happen. There are no refunds, but if you buy a kit from us we will ensure everything works at the workshop (hardware). If an item arrives to us defective or does not arrive ontime, we will work it out to provide you the cost of that item back if you purchased a kit.
KIT OVERVIEW: (Not Complete listing)
Raspberry Pi 3
Case
Power Supply(2.5amp)
Display Screen (working on largest 5-7") - HDMI or Ribbon Based
Potential Display Powersupply and Cable (pending)
Relays
Sensors (Distance and Motion)
Bread Board
Jumper Wires (Matched to work with sensors and such)
MicroSD Card (OS)
MicroSD Card (Kali)
Additional Wi-fi Adapter (beyond the one included)
Keyboard w/ Touchpad
Power Strip (At least 3 outlet)
LEDs (Usual 2 wire type)
Resistors
Motor
Buttons
LED Strip
Arduino (Yep you get one of these as well)
Camera (Optional - see ticket add-on)

NOTE: We price the kit based on Electronics resellers such as MTM, Amazon, AdaFruit and trusted shipping companys in the US for bulk pricing. We are working on getting as large an LCD screen and other features as possible. If we get a good discount, you can expect more in your kit (surprise) and maybe some cash to roll at the tables. We wont know quantity until late June, then expected ship times until very late june (ie right before defcon). If we need to priorty ship something that costs more money. We price the kits to be standard, cost effective, and do not try to make money. Our main goal is to make them standard as possible for the class to go smoothly in the time allowed, and ensure everything works together. Nothings worse than getting everything in the kit but say the keyboard or the display, so we have to hedge our bets. Based on previous workshops, people wanted to pay more for a larger screen vs a small 4inch screen. People wanted to have options (such as camera or cool led strip) included vs parting it out. [ie a new person didnt know what the camera or other items are used for]. When we get the exact parts list (models and pn) we will list here for someone bringing their own. Previous workshops have shown bring your own did not generally work out very well (takes more time to get yours to work vs ours) - with a few exceptions.

YOU NEED TO BRING:

LAPTOP (Recommend Windows 7 or Higher) with Wifi and Network ports
SNACKS
Suggest a extra power cord and outlet strip (not required, but we never know what the hotel will provide), we do a good job planning around this, but just in case.

OTHER Information:

If you buy a workshop BYOS ticket (IE you are bringing your own stuff), make sure you bring your own stuff. Anyone who does not have their gear, will be asked to stand and make room for other peoples laptops and Raspberry Pi kits. The cost on this ticket is only for the SD Cards to go through the workshop. We wont have a complete list of what to bring until Mid/late July. Watch this space for more info on what to order/bring.

If you get the Free workshop ticket, then you will be asked to stand to make room for other attendees who bring their laptop and kits. If there is room, then a seat may be made available. We cannot guarantee seating for people who attend without a kit (just to watch) due to the space constraints in the room. However you can download the presentation after the conference.

Make sure you show up on time. Morning Session starts at 9:00am, Afternoon at 2:00pm on August 4.
Kits / add-ons are non-refundable, if you are unable to get your kit we will work out a method to get it to you (US 48 States), if you will pay shipping.

---BELOW WILL BE FOR UPDATES AND FAQ After June 18--
"You waited to long Kit Morning and Afternoon Kits." These are the deluxe kits w/ Pi, however they were created when the others sold out. You are only buying this if you won big at the slots, have a work sponsor, dont care, want to buy us more beer. Its your last minute option to get in, you waited too long. Everyone before you got here, gave us time to order you a kit, except you. Its all good, we will find a way to get you the kit that morning or afternoon, but we want to buy ourselves a buffett or beer. So there it is. If we find more room we will update and add more (and we like freeish food/beer).
FAQ

Why cant I just order what you are selling and bring it to class, I have some parts or can save money buying "better than you" doing that?
You can, however we wont know the specific cards, relays, sensors, etc that we will order in bulk for the class until late in the month. While I doubt a resistor, breadboard or simple LED would matter much, using a different relay board, sensor, motor, LED Strip or wifi adapter can significantly effect how the class works for you. If we had more time to present the class we might be able to work with you more on the nuances of each type of hardware. Defcon has limited these to 4 hours, we would prefer 8, maybe next year. But the plan is to keep this as standard as possible, reasonable on the costs, and provide options for what most people might have (IE many may already have the Pi). The specific hardware becomes more important on the 2nd half of the four hour class to avoid mucking with OS parameters to get your stuff working. If it really concerns you, drop us a line and we can work with you. For example, we dont care what type of monitor, but most people are not going to bring a 15,17,20" display to the class - or use it in a portable pen testing setup. So we had to include one in the kit - increasing our cost for the kit 65 ish dollars. Some displays dont work correctly, so we wanted to keep it standard for the class as well. We also know you can buy SD cards from $ 2 - $ 40 ea of various sizes, but we wanted to provide one as a minimum that was pre-configured to the specific labs we will walk through - requiring it to be setup, and duplicated prior to the class.

If we get a great deal on bulk parts, we will include more goodies and/or kick back some cash. There is always the chance we may take a couple of dollars and put it in our beer/ammo fund. We dont know how many people/kits will be needed so we price based on a midrange capacity order and guaranteed shipping to Vegas, and ready to provide kits. Ordering from China / Ebay / other resellers has been an issue in the past in many areas.
If I take this class with my (son/family member/dog) can we share the kit for one ticket (if we buy the kit)?

Yes - but with a caveat. If the room is full, its one ticket to one seat section. Typical setup is a power strip, with a laptop plugged in, a kit of electronics, another display and the RaspBerry Pi 3 layed out next to it. This is around 4 foot of space per person. So if say a father/son came, we would try to accomodate, but we need to give preference to those who bring kits. Worst case, the other person may need to sit in the back or near the wall.
My child is 14, can they come to the class?
Contact and we can discuss, we think kids are great, but this is Defcon and we need them to bring their A game. Age 15 or higher has worked out very well in the past. We picked an age, lets discuss if its not working for you. While we keep the class family friendly, well Defcon family friendly (PM if you dont know the difference).
Why does it only show X tickets of Y type?
We adjust quantity based on the type of kits. If everyone is BYOS, we will reduce the kits. If there are lots of kits (whatever type) - we will reduce the people who just come to watch (Limited room). If you see something sold out, check back or PM and we can see what is going on.
Do I need to buy a stand only ticket if I get a Kit?
No.
Do I get the SD cards with the Kit?
Yes.