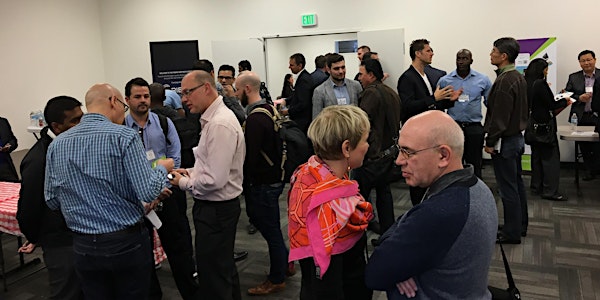 Deep Tech Pitch: AI, Robotics, Machine Learning, Sensors, Frontier Tech & Federal Funding Options
When and where
Location
JJ Lake Business Center 340 East Middlefield Road Mountain View, CA 94027
Description
SCHEDULE
5:00-6:00 Networking, Demo Showcase, Food and Drinks

6:00-7:30 Investor Introductions, Panel, and Startups Pitching
Panel:

Nuno Goncalves Pedro, Venture Partner, Grishin Robotics


Kenny K. Vassigh, Sr Systems Architect, Office of the Chief Engineer, NASA

Anup Savla, Founder, SingularityAIX and Lakewood Asset Management

Josh Bar-On, VP of Business Development, Eaglepoint Funding

Amit

Sridharan,

Director, US Venture Investments & Partnerships,

Mahindra Partners

Moderator: Kartik Gada, investment banker
Startups Pitching:
Maaind (3)

NP Inc (3)


7:30-9:00 Networking and Demo Showcase


ABOUT OUR PROGRAM
We address how to create successful deep-tech innovations and attract funding for AI, Robotics, Machine Learning, Sensors, Frontier Tech. Our speakers address:

What types of partners do I need to scale my deep tech idea?

What are challenges and opportunities facing technical startups?

How can you attract investors and grants for deep-tech startups?

How do you attract customers, board of advisors, and partners?

What are federal funding soures for deep tech mid stage and advanced growth startups?
ABOUT EVENT PRODUCER: ANGEL LAUNCH
Angel Launch, based in Silicon Valley, is a leading producer of tech venture forums connecting thousands of global startups to hundreds of accredited investors for early and advanced stage funding. Startups can register to pitch the audience and host a demo table to meet investors for two hours over dinner and drinks.

This event is free for the first 200 attendees for startups and investors. I
f you are an early or advanced growth startup in these areas, register to pitch. If you are not sure if you are in deep tech, send us an email.
Eagle

Point Funding helps disruptive tech companies raise funds without diluting equity. We do this by tapping into the world of US Federal R&D grants and contracts. Federal grants fund thousands of companies each year with an annual budget of more than $30B, yet are still very much unknown as sources of funding. We specialize in every tech field besides life sciences.
We connect our clients to the best suited funding opportunities for their research and smoothly navigates them through a complex submission process. With insider knowledge of the grant process and a talented team of analysts and grant-writers we increase the chance and size of your company's funding success.
​
We help companies from the various fields of Technology like Cyber Security, Aerospace, Defense, Drones, Energy, Big Data, and ICT.
What sets us apart is our Multi-Submission Strategy as well as nearly two-decades of experience.
_________________________________________
THERE ARE TWO OPTIONS TO ATTEND
1. Attendee or Accredited Investors
Attend VIP Dinner with food, drinks, networking in demo showcase

2. Startups Pitch from Stage and Host Demo Table

____________________________________________________________________________
Enjoy a delicious casual two hour networking dinner with drinks where you can roam around the room, sit at tables, and meet many startups and investors


Aeronautics

Aerospace and defense

Advanced Computing

AI and Robotics

Automotive and self driving cars Biotech and life sciences

Big data/analytics

Cybersecurity & Communication

Drones

Embedded Systems

Energy

Environment

Frontier Tech

Homeland Security

Industrial

Internet of Things

Manufacturing

Materials

Mobility and transportation

Sensors

Space and satellites

Smart Cities and Smart Grid
__________________________________________________________________________

FREE PITCHING SPOTS NOW SOLD OUT SO YOUM UST BUY A SPOT TO PITCH
STARTUPS APPLY TO PITCH FOR FREE:
For this event we did offer six free pitching spots but they are now gone. You can apply here on this page to pitch for 3-6 minutes at our discretion and can pitch if selected. Also send info in this email below after you apply.
Please follow these guidelines to pitch:
-Startups should be at least Round A and not seed funding.
-Startups must have raised 1 Million in funding to date.
-Your market must related to deep tech AI, Robotics, Machine Learning, Sensors, Cybersecurity, Frontier Tech but not bio or life science.
STARTUPS ITS FREE TO APPLY TO PITCH THE INVESTORS
AND SEND TO info@ANGELLAUNCH.com with "Deep tech pitch) in subject line. You must relate to . Your submission will be reviewed by our team. If you are selected, there is no fee to pitch from 3-6 minutes at our discretion.

Send email with this info to apply to pitch:

1. Company name, link, website, contact info and date you launched
2. Description of product, app, device, startup or service
3. Target market, market opportunity, and current or prospective customers
4. Explain what you do and why you are unique
5 How much Funding you received to date; and how much funding you need
6. Board of advisors or directors or current investors
________________________________________________________________