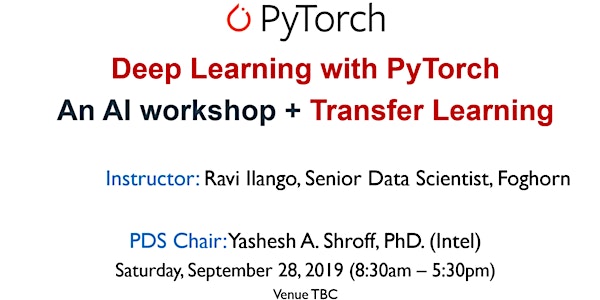 Deep Learning with PyTorch and Transfer Learning - AI Workshop - by SFBay ACM
When and where
Location
Volvo Group 335 E. Middlefield Rd. Mountain View, CA 94043
Description
Deep Learning with PyTorch
Signup / Registration
Abstract - PyTorch is the fastest growing framework to build deep learning algorithms. In this full-day workshop, we will cover the foundational elements of PyTorch and provide an intuitive understanding of model development from scratch. To solve real-world problems, we will cover a very critical area of AI called Transfer Learning, where you can build models on top of those created by Google and others. So if you are looking to expand your skill set in AI with the latest tools and techniques, this is a workshop you do not want to miss.
Content: You will have access to all the notebooks, training material to build your own apps. You should be able to directly work on these using Google Colab. For the Workshop itself, we will have AWS instances available for use.
Lead Instructor: Ravi Ilango (Data Scientist)
Group rate available: ($130 / person. Please contact us for signing-up.)
Key topics covered
(This will be a very lecture and lab heavy workshop. You're encouraged to attend our Data Science SIG earlier that week to get the fundamental concepts. We will have several TAs on-site to help with the learning process, but expect the class to move at a fairly fast clip!)
Fundamentals and application of ML / DL

Tools, techniques with a focus on PyTorch

Lab - using PyTorch to build and train deep neural networks. Cover image classification
PyTorch deep dive (Convolutional Neural networks, Recurrent Neural networks, Fault detection)
Lab - Build and train advanced detection models (different use cases)
Transfer learning
Lab - Transfer learning
Optimizing your solution for deployment
Lab - OpenVINO, TorchScript
PDS Chair & Organizer: Yashesh Shroff, Ph.D. (Lead Strategy Planner, Intel Corp)

@yashroff
For more information about Registration, please contact SF Bay Chapter of the ACM, yshroff at g | m | a i l
We look forward to seeing you at the Fall PDS 2019 event!