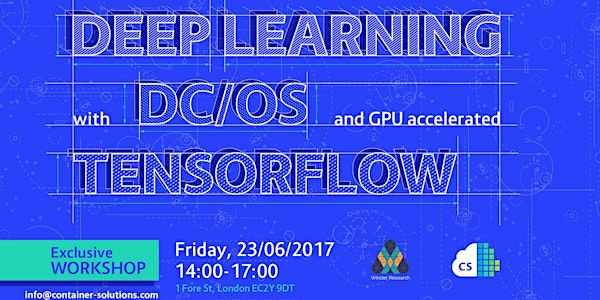 Deep Learning with DC/OS and TensorFlow
When and where
Location
EC2Y 9DT Fore Street London EC2Y 9DT United Kingdom
Description
Introduction
The Data Centre Operating System (DC/OS) is a powerful orchestration platform for Cloud Native applications. It improves upon Mesos by providing enterprise quality infrastructure management, self-healing and monitoring out of the box. One key use-case is the handling of complex big data and analytics workloads.
Tensorflow is a graph-based computational machine learning library, most known for it's deep learning feats. It comes from Google, out of a requirement to design and operate complex machine learning models. This open source library is hugely flexible allowing it to be used for development, but is also able to scale out to production workloads on a range of hardware. Clustering with DC/OS allows groups of individuals to take advantage of a static set of resources in a multi-tenant manner.
Audience
This workshop provides hands-on experience with DC/OS and Tensorflow but also discusses the benefits and new opportunities for business. To take part in the practical elements it is assumed that you:
Have some experience with cloud services.
Are comfortable using the command line.
No DC/OS, data science or deep learning experience is required.
You Will Learn
How to install and use DC/OS How to run a simple web-app How to install Tensorflow How to use Tensorflow in a simple Deep Learning example.
World Leading Experts
Dr. Phil Winder is a leading expert in cloud native data science. His company, Winder Research, assists businesses with consulting and development to improve efficiency with cloud native strategies and develop new markets with data science. Being an international speaker, he presents on a range of topics; but likes nothing more than to have fun helping other people.
Jamie Dobson is the CEO of Container Solutions, a company specialising in cloud native technologies. With a masters in High Performance Computing, Jamie and his team at Container Solutions are helping customers succeed with scientific programing using tools like TensorFlow and DC/OS.