Bob Wells interviews an awesome Accountable Equity Entrepreneur!
About this event
One-on-one interviews with Accountable Equity faculty members looking at a single subject, whether that's a focus on specific investing tactics to tax credit opportunities or asset protection.
This Week: "The Horizontal Income Tracker" by Bob Wells of Bright Future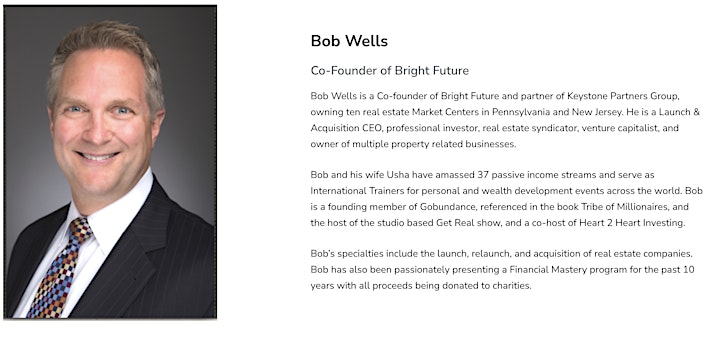 ACCOUNTABLE EQUITY is the partner of thoughtful accredited investors who seek to benefit from tax-advantaged investments and who want a team of professionals who will be accountable with their investments in privately offered equities. ACCOUNTABLE EQUITY does not give investment advice, endorsements, analysis or recommendations with respect to any securities. Nothing contained in this email constitutes tax, legal, insurance or investment advice, nor does it constitute a solicitation or an offer to buy or sell any security or other financial instruments, which only can be made through official offering documents that contain important information about risks, fees, and expenses.
https://www.investor.gov/additional-resources/news-alerts/alerts-bulletins/investor-bulletin-accredited-investors