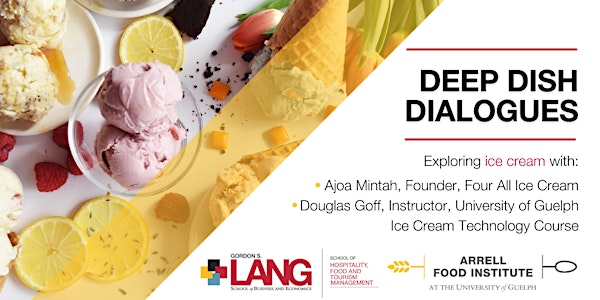 Deep Dish Dialogues - Exploring Ice Cream
Join us for our next episode of the Deep Dish Dialogues series.
About this event
Get the scoop on ice cream at the next Deep Dish Dialogues! Join us on Thursday, May 26 from 12 to 1 p.m. to learn more about this popular sweet treat. We'll be joined by two experts: Ajoa Mintah, founder and CEO of Four All Ice Cream and Douglas Goff, Instructor of University of Guelph's ice cream technology course. They will show us how to make ice cream while explaining the ingredients, process and science behind it.
This event will be broadcast live from the Anita Stewart Memorial Food Laboratory at the University of Guelph. Register now and you will receive the link to watch the day before the event.
Deep Dish Dialogues is a monthly live web series designed to showcase chefs and food experts diving into impactful subjects. The series is brought to you by the University of Guelph's Arrell Food Institute and the School of Hospitality, Food and Tourism Management at the Gordon S. Lang School of Business and Economics.
View previous episodes of Deep Dish Dialogues here.
Event Speakers
About Ajoa
Ajoa created Four All with the dream of making handcrafted ice cream using all-natural, locally-sourced ingredients in order to provide a better choice for all ice cream lovers who want to indulge in a sweet treat without compromise to their well-being.
Her obsession with hand-crafted ice cream began during a heatwave in August 2003 when, instead of an air-conditioner she bought an ice cream machine. Not only did she save money, the ice cream from the little machine was so good! Fast forward to now, tons of ice cream experiments later, Four All is spreading the joy of ice cream throughout Southern Ontario.
About Doug
Dr. Douglas Goff is a Professor in the Department of Food Science at the University of Guelph. He is a world-renowned ice cream and dairy systems expert. Professor Goff teaches undergraduate and graduate courses in Introductory Food and Nutritional Sciences, Dairy Technology, Food Carbohydrates and Food Colloids, and he teaches annual Ice Cream Technology courses for industry personnel.