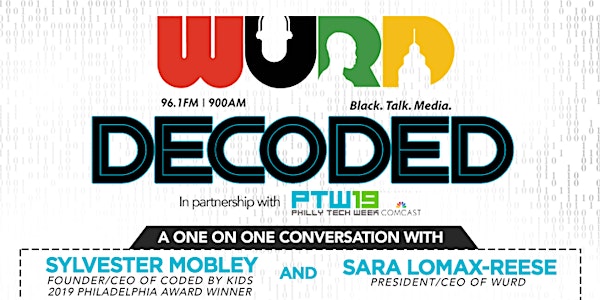 DECODED: A One on One Conversation with Sylvester Mobley & Sara Lomax-Reese
When and where
Location
1901 Vine Street Philadelphia, PA 19103
Description
Join the WURD Family as we partner with Philly Tech Week on Wednesday, May 8 for a one-on-one conversation between Sylvester Mobley, Founder of Coded By Kids, and WURD President and CEO, Sara Lomax-Reese. As the 2019 winner of the Philadelphia Award, Mobley has been recognized as an innovator in tech education. His mission: "to ensure that every child has the support, resources and opportunities to build the next Google, Microsoft or Facebook, regardless of what they look like or where they come from." Come listen, learn and engage in a powerful discussion about how we empower the next generation of tech entrepreneurs.
Date: Wednesday, May 8, 2019
Time: 1:00-2:00pm (Doors Open at 12:30pm)
Location: Free Library of Philadelphia, Parkway Central, 1901 Vine Street
Heim Center for Cultural and Civic Engagement
Seats are limited so please RSVP ASAP. Go to wurdradio.com or call 215-425-7875.
*Membership has its privileges: forWURD members will receive priority seating.