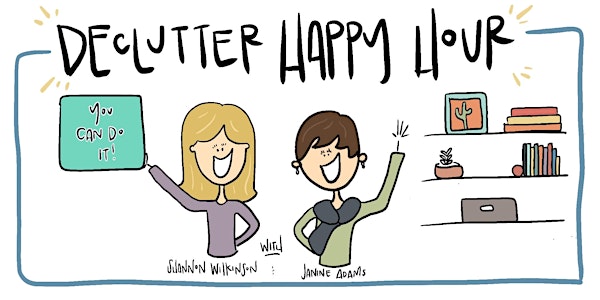 Declutter Happy Hour
Declutter Happy Hour infuses the decluttering process w/ a secret ingredient: mindset change. Four Sessions: April 7, 14, 21, 28 | 4-5:30pm
Refund Policy
Contact the organizer to request a refund.
Eventbrite's fee is nonrefundable.
About this event
Clutter is about so much more than physical stuff. The feelings you have about the stuff have everything to do with your ability to let go of excess or even start thinking about the decluttering process. Those emotions and beliefs might be why you have the clutter in the first place! Declutter Happy Hour infuses the decluttering process with a secret ingredient: mindset change (plus fun and laughter). Each session will start with a discussion between your guides, life coach Shannon Wilkinson and professional organizer Janine Adams, about an important aspect of the decluttering process and mindset. Then, during the class, you get time to work on a decluttering project. Shannon and Janine are with you the whole way to answer any questions that come up and to provide support. By the end of a month of Declutter Happy Hours you'll have let go of more than just stuff and you'll have the tools to take on decluttering projects on your own.
Janine and Shannon are the co-hosts of Getting to Good Enough a podcast about letting go of perfectionism so you can do more of what you love. On the podcast they share tips, techniques and stories from their organizing and coaching practices (and their own lives) to help you find more peace, have less angst and take more action.
Shannon Wilkinson has been a life coach since 2003 and specializes in helping people change their minds, change their actions and ultimately, change the world. Learn more at shannonwilkinson.com
Janine Adams is a certified professional organizer and owner of Peace of Mind Organizing®, which she founded in 2005. She helps clients create order, harmony and peace of mind by helping them declutter, organize and create new systems and routines.