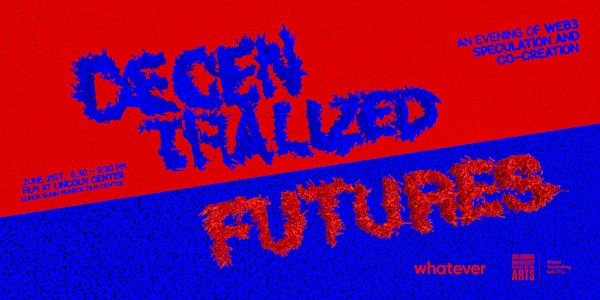 Decentralized Futures: An Evening of Web3 Speculation and Co-Creation
Location
Film at Lincoln Center - Elinor Bunin Munroe Film Center
144 West 65th Street
New York, NY 10023
An evening of Web3 speculations w/ Columbia University School of the Arts' Digital Storytelling Lab and creative agency Whatever, Inc.
About this event
Join the Columbia University School of the Arts' Digital Storytelling Lab (Columbia DSL) and creative agency Whatever, Inc. at Lincoln Center with featured speakers as we hold space for a series of DAO & Web3 speculations. Throughout the evening, featured speakers will imagine the future of decentralized technologies–and how they might be a force for creativity, playfulness, inclusivity, and non-hierarchical co-creation. Culminating in a DSL/Whatever Inc. co-produced workshop of Blockchain Fairy Tales (BFT)--an immersive artmaking experience bridging the physical and virtual worlds– those formerly known as the audience will become creative collaborators, community members, and DAO-makers.
The evening will include three talks and a special co-created Web3 speculation lead by Columbia DSL.
Speakers:
Kyle McDonald is an artist working with code. He crafts interactive installations, sneaky interventions, playful websites, workshops, and toolkits for other artists working with code. Exploring possibilities of new technologies: to understand how they affect society, to misuse them, and build alternative futures; aiming to share a laugh, spark curiosity, create confusion, and share spaces with magical vibes. Working with machine learning, computer vision, social and surveillance tech spanning commercial and arts spaces. Previously adjunct professor at NYU's ITP, member of F.A.T. Lab, community manager for openFrameworks, and artist in residence at STUDIO for Creative Inquiry at CMU, and YCAM in Japan. Work commissioned and shown around the world, including: the V&A, NTT ICC, Ars Electronica, Sonar, Todays Art, and Eyebeam.
Shar Simpson is a non-binary artist, interactive writer, and educator. They specialize in the crafting and mapping of compelling immersive stories and digital experiences for all ages. shar is a Sundance Storytelling Lab fellow, a resident of the POV Spark Lab, and a member of the Columbia University Digital Storytelling Lab. Their work has been presented at Tribeca Film Festival's Virtual Arcade, the Slamdance Film Festival, Mozilla Fest, and others. Shar currently teaches Digital Storytelling and World-Building at Columbia University's School of Arts' Digital Storytelling Lab. They also lead workshops about interactive writing and world-building for a variety of audiences. They work in a range of industries including education, healthcare, and digital entertainment.
Zipeng Zhu is a Chinese-born artist and designer in New York City who wants to make every day a razzle-dazzle musical. He is the recipient of numerous art and design awards and his work has been exhibited all over the world.
Máuhan M Zonoozy is a renowned innovator, entrepreneur, and speculative designer. Máuhan spends his days as Spotify's Head of Innovation and resident futurist, leading the company's next-gen strategic direction and 'moonshot' bets, and his nights and weekends as a speculative designer and angel investor most interested in the intersection of culture, content, and web3. Over the years, Máuhan has designed future-forward solutions for some of the world's most influential companies from white board to IPO, including as a Global Partner at Boston Consulting Group and BCG Digital Ventures, as well as part of Orrick's Technology Companies Group. Previously, Máuhan founded Bubbl, a video technology startup venture-backed by Warner Bros. Studios and acquired by Cricket Media. In prior lives, Máuhan was a venture capitalist, and - once upon a time - a plucky music journalist for the likes of Spin and LA Weekly. Máuhan lives in the metaverse, is an aspiring MoMa curator, and is happiest when on a chairlift.
Additional speakers TBA
Moderator: Aramique Krauthamer, Partner / ECD at whatever
Event Details
Doors open @ 6:15pm
Location: Film @ Lincoln Center (144 W. 65th Street)
Elinor Bunin Munroe Film Center (When you enter from the main entrance, go straight ahead, and ask for the Ampitheater)
PLEASE NOTE: We will be abiding by Lincoln Center's Covid Safety Protocol. Please wear masks when not eating/drinking. Note that this is subject to change.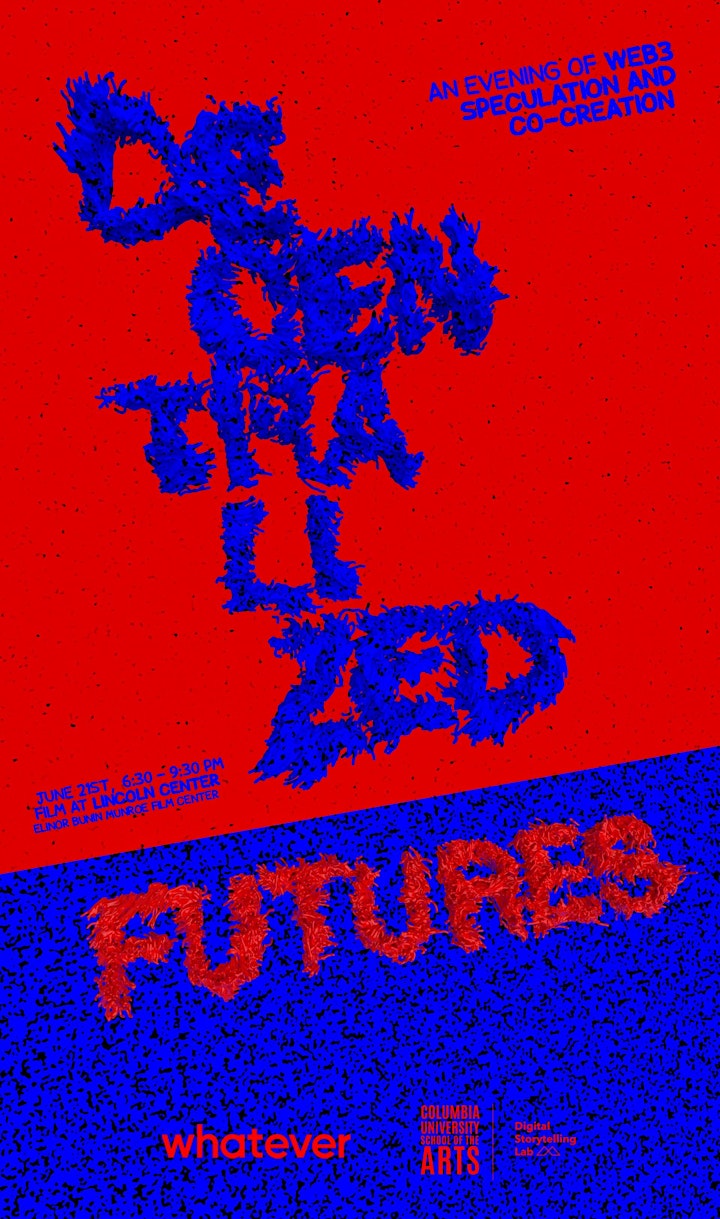 About Whatever, Inc.
Whatever is a worldwide creative organism that morphs and mutates across mediums and borders. We explore the thresholds of the unknown to conceive new cultural ideas and experiences. https://whatever.co/
About Columbia University School of the Arts' Digital Storytelling Lab (Columbia DSL)
Columbia DSL explores new forms and functions of storytelling through a mix of co-creation, emerging technology and code.