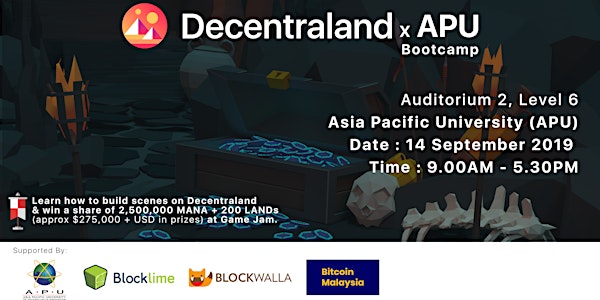 Decentraland x APU Bootcamp
When and where
Location
Auditorium 2, Level 6 Asia Pacific University of Technology & Innovation (APU) Jalan Teknologi 5 Kuala Lumpur, Wilayah Persekutuan Kuala Lumpur 57000 Malaysia
Description
About the Event
Decentraland Bootcamp is a one-day training on Decentralised gaming & Decentraland own SDK @ APU. Participants can learn how to build scenes and deploy it onto Decentraland Blockchain. This Bootcamp will equip students with the knowledge to participate in Game Jam (https://gamejam.decentraland.org/?with=harp) and also introduce students to a new paradigm on game development called decentralised gaming.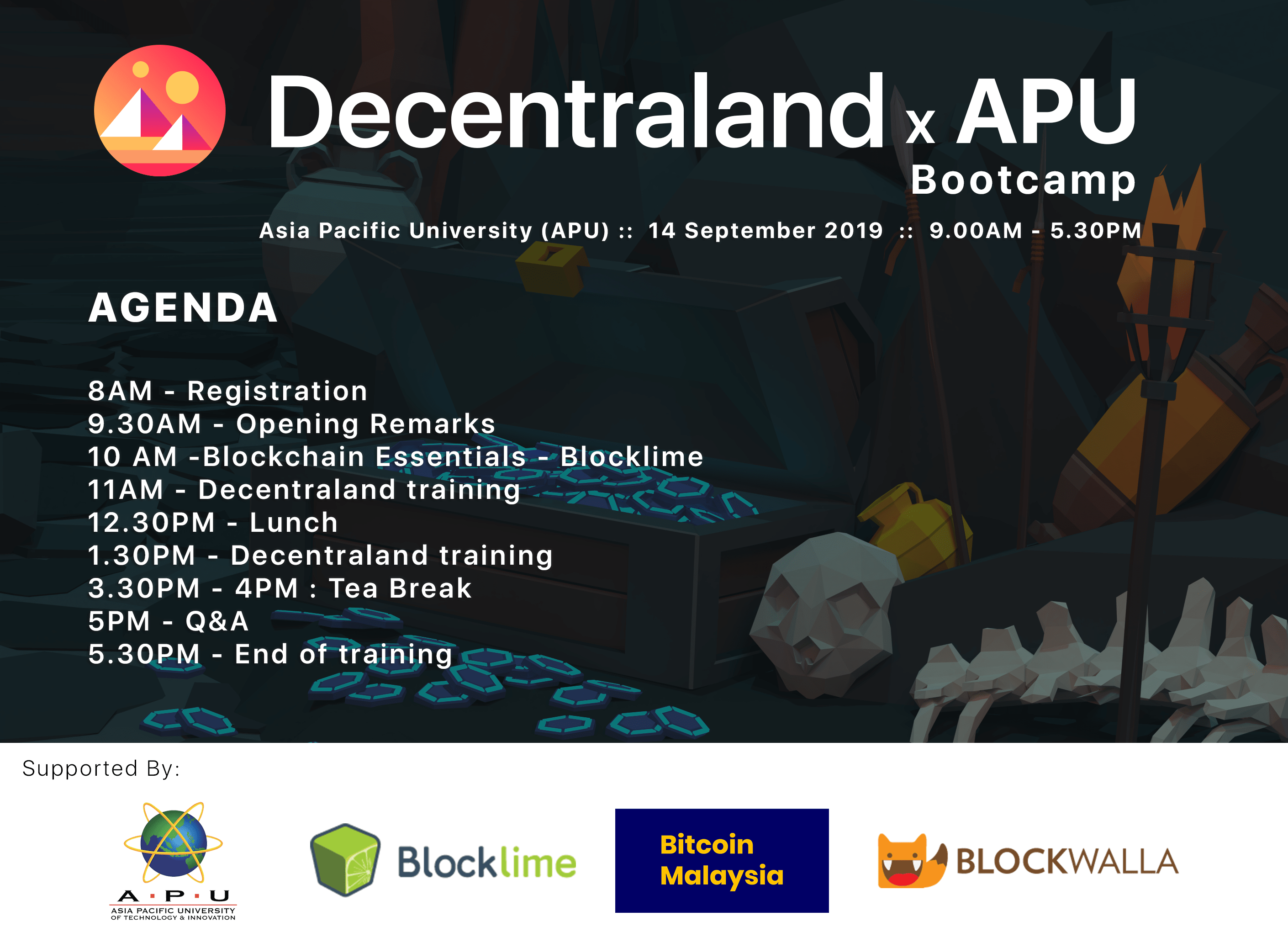 What is Decentraland?
Decentraland is a decentralized virtual world powered by the Ethereum blockchain. The finite 3D virtual space is divided into parcels called LAND. Each plot of LAND is permanently owned by a member of the community, giving the owner full control over what they create and display in that location. As players explore the virtual world, the content uploaded to Decentraland is rendered on its corresponding land parcel.

Who should join?

The training is focused on game developers, 3d modellers, asset designers, software engineers, multimedia students and related fields. It's open to both students and working professionals.
I'm a game developer, but I don't know much about blockchain.
You don't need to go down the blockchain rabbit hole to build a scene. Just know that the 3D scene you build will be tied to one or several tokens on the blockchain, which represent parcels of LAND. You're also encouraged to explore different ways in which the code of your scene can interact with other data on the blockchain, but it is not a requirement.

How can i join Game Jam?
Go to the page (https://gamejam.decentraland.org/?with=harp) and register with your email address. You will get the confirmation email.
Where can i read more about Decentraland SDK?
The Decentraland SDK is based on TypeScript (JavaScript with type checking), featuring development patterns that are common among game development platforms. SDK 6.3 version will support collision events, player movement, a polished HUD interface and more. Read more here: https://docs.decentraland.org/
Join our other events as well :

Decentraland x Bitcoin Malaysia :
Decentraland x MaGic :
Decentraland x APU :
There is More :