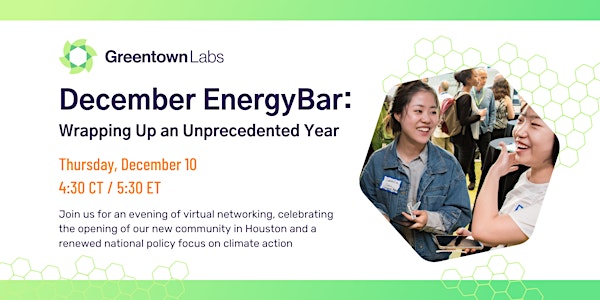 December Virtual EnergyBar: Wrapping Up an Unprecedented Year
EnergyBar is Greentown Labs' networking event devoted to helping people in technology and innovation discuss climate action at work.
About this event
Please find the event link here.
Please join us on Thursday, Dec. 10, for the final edition of our virtual EnergyBar networking event for 2020. At Greentown Labs, we are ready to put a wrap on 2020, an unprecedented year for us all. Between the opening of our new community in Houston and a renewed national policy focus on climate action, we are looking ahead with optimism, hope and verve toward a collaborative energy transition in 2021 and beyond.
Entrepreneurs, investors, students, and friends of climatetech are invited to attend, meet colleagues, and engage in a community that is focused on climate action at work. As work from home evolves to our new normal, we want to ensure our broader community has an avenue to connect.
This event will succeed Careers in the Energy Transition: Making the Move event organized by the Renewable Energy Alliance of Houston. As such there will be no speaking program. We hope you can use this time to gather with like minded leaders, reflect on the year and make new plans for the next.
The event will be on Remo.co, where we regularly bring together many climate-focused professionals. On average, 75 percent of our attendees are able to make a new, meaningful connection. We hope you'll join us, strengthen your own network, and learn something new about efforts to accelerate the energy transition!
About Virtual EnergyBar:
EnergyBar is Greentown Labs' networking event devoted to helping people in climate technology meet and discuss innovations. Entrepreneurs, investors, students, and 'friends of cleantech' are invited to attend, meet colleagues, and expand our growing clean technology community.
This event will be hosted virtually on Remo.co which features virtual tables for organic conversation and networking. Attendees can engage in video conference with other attendees at tables of 2-6 individuals and seamlessly transition to other tables throughout the event.
Our attendees typically span a variety of disciplines within energy, efficiency, and renewables. In general, if you're looking for a job in climate tech or energy, trying to expand your network, or perhaps thinking about starting your own energy-related company this is the event for you. Expect to have conversations about issues facing advanced and renewable energy technologies and ways to solve our most pressing energy problems. Suggested dress is business casual—but we all understand you too may be networking from home with all the quirks that includes.
Don't let physical isolation lead to social isolation and invite a friend—Hope to see you there!
--------------------------------------------------------------
Questions? We have answers! FAQs:
*Where is the event being hosted?
We are planning on using the networking platform Remo (https://remo.co/). Its a bit different from zoom and google hangouts you may know and love, but trust us, it's great! Check out their website if you want to get a feel for the platform before the event starts.
*What is the dress code?
Feel free to dress work-from-home business casual
*Is this a virtual happy hour?
Yes, although we cannot provide alcohol over the internet, please feel free to bring your own drink to your computer; and know others may do the same.
*How do I get into the event?
Upon registration you will receive a confirmation email from Eventbrite. In it you'll find a button that will lead you to a link to the event. We will also be sending you the link on the day of the event.
*How can I contact the organizer with any questions?
You could send a drone with a message but it's probably easiest to just send an email:) please reach out to Jason Ethier at jethier@greentownlabs.com
Please note that by registering to attend this event you are accepting these terms: You acknowledge that alcohol may be used by other attendees at their own discretion; You consent to your image or likeness being used in content associated with the event; You release Greentown Labs and all partners from any and all liability stemming from any event-related incident.