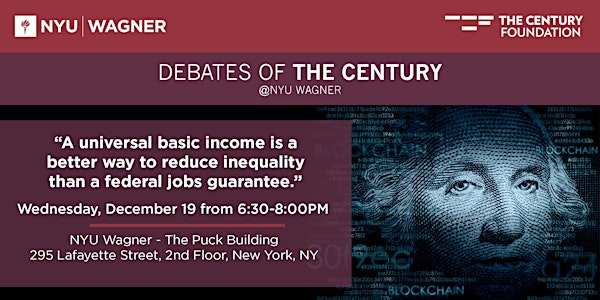 Debates of the Century @NYU Wagner: "Universal Basic Income vs. a Jobs Guar...
Location
The Puck Building
295 Lafayette Street
Rudin Family Forum for Civic Dialogue, 2nd Floor
New York, New York 10012
Description
Doors Open – 6:00pm
Debate Begins – 6:30pm
Debate Ends – 8:00pm
The Century Foundation and NYU Wagner are proud to present Debates of the Century @NYU Wagner, a public debate series showcasing thoughtful, informed dialogue from experts.
"

A universal basic income is a better way to reduce inequality than a federal jobs guarantee.

"
Bold, progressive economic ideas are having a moment. At a time of record inequality in America, more and more people are looking to proposals that would give much needed help to working families, strengthen the middle class, and mitigate the potential impacts of technology and automation.
Join The Century Foundation (TCF) and NYU Wagner on December 19, from 6:30–8:00 pm, for a debate on the merits of two leading ideas: a universal basic income (UBI) and a federal jobs guarantee.
Which is better? Would giving money to Americans better meet the needs of individuals and their families—needs that the labor market too often fails to provide? Or should the federal government instead guarantee a decent-paying job to everyone—lowering unemployment along the way?
The event, part of TCF and NYU Wagner's Debates of the Century series, will feature Ioana Marinescu, assistant professor at the University of Pennsylvania, arguing in support of UBI, and Darrick Hamilton, professor of economics at the New School, making the case for a jobs guarantee. Lydia DePillis, senior economics writer at CNN, will moderate the debate.