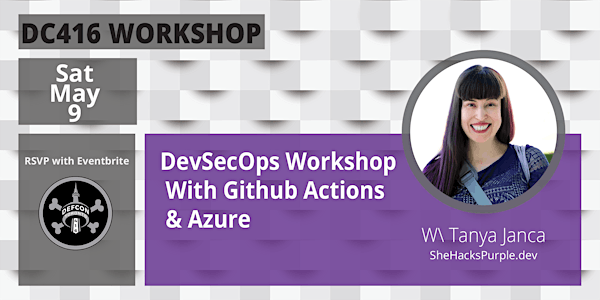 DC416 DevSecOps Workshop with GitHub Actions and Azure
Join us for a technical hands on virtual workshop with Tanya Janca to advance your DevSecOps skills and knowledge!
About this event
DEFCON Toronto is excited to bring you a Virtual DevSecOps Workshop with GitHub Actions and Azure facilitated by Tanya Janca!
Individuals of all skill levels are encouraged to attend.
This workshop will be delivered via GoToTraining. All registered participants will be e-mailed info on how to join directly.
Bio on Workshop Facilitator
Tanya Janca, also known as 'SheHacksPurple', is the founder, security trainer and coach of SheHacksPurple.dev, specializing in software and cloud security. Her obsession with securing software runs deep, from starting her company, to running her own OWASP chapter for 4 years in Ottawa, co-founding a new OWASP chapter in Victoria, and co-founding the OWASP DevSlop open-source and education project. With her countless blog articles, workshops and talks, her focus is clear. Tanya is also an advocate for diversity and inclusion, co-founding the international women's organization WoSEC, starting the online #MentoringMonday initiative, and personally mentoring, advocating for and enabling countless other women in her field. As a professional computer geek of 20+ years, she is a person who is truly fascinated by the 'science' of computer science.
About This Workshop
This hands-on workshop will teach concepts of DevSecOps using GitHub Actions CI/CD. Participants will sign up for a free Azure trial, clone the SheHacksPurple GitHub repo for their test web application, create an GitHub Actions Pipeline, add Snyk and Trufflehog plugins, force HTTPS, enable Azure Security Center and more
Workshop Participation Prerequisites:
1. Basic understanding of code and DevOps
2. Ability to follow technical instruction.
3. Azure Account or free trial (credit card required) - Note: Do not use your work Microsoft Azure Identity, make a new one.
4. Github account
5. A modern web browser (Chrome, Firefox, Edge, etc.)
6. Patience and a sense of humour :-D
Schedule
12:30PM-1:00PM - Pre-Workshop setup
1:00PM-3:00PM - Workshop Start
3:00PM-3:30PM - Break
3:30PM-5:30PM - Workshop Resumes
5:30PM-5:40PM - Workshop End & Closing Remarks