Tips and Tricks for Travel Blogging
About this event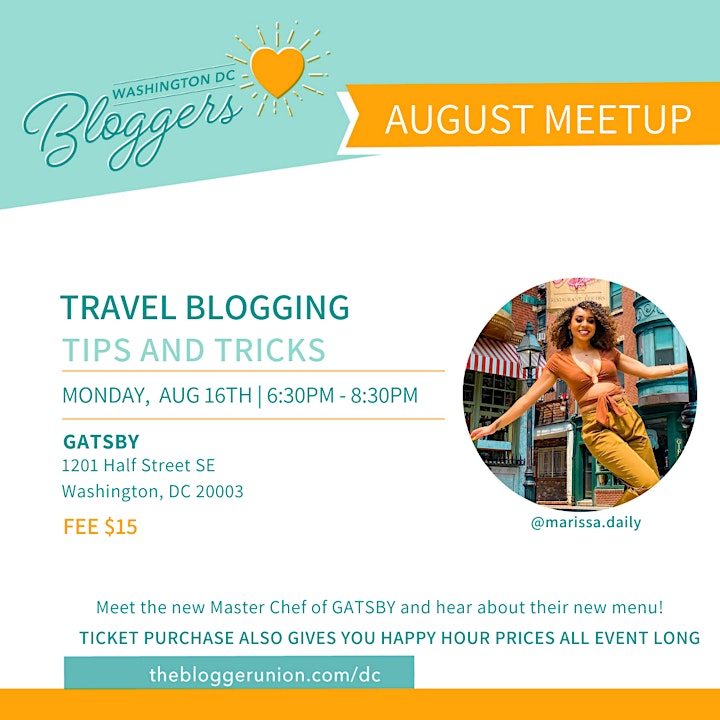 Marissa Daily is a lifestyle and travel blogger based out of the Washington, D.C. Metropolitan area. Travel is her number one passion, and she is on a mission to empower others to make travel a reality for their own lives as well. She's a strong believer that everyone can experience the joy of exploring the world, no matter the way they look or their socioeconomic status. Marissa creates one-of-a-kind city guides, destination inspiration, and budget-friendly travel hacks for aspiring travelers, especially young travelers and minorities. By creating travel content through her blog, The Marissa Daily, she strives to help others make lifelong memories - one destination at a time. Her journey as a blogger for the past 3 years has led her to visit amazing places, work with a variety of brands, and build an engaged travel community that she cares for deeply. One of the principles Marissa lives by, and encourages others to abide by, is that when you look like your passport photo, it's time to book a trip. Let's go places.
Happy Hour
Each paid ticket grants you happy hour prices all event long.
Event Social Media Handles
Please use the following handles when covering this event on social media:
@marissa.daily
@thedcbloggers
@gatsby_restaurant
@monacodc
THE DC CHAPTER OF THE BLOGGER UNION
In order to become a member of the DC Chapter of The Blogger Union, be sure to log onto our website, select 'Become a Member' then select the drop down for the Washington, DC chapter.
https://thebloggerunion.com/register/
Looking to go to other blogger events, looking to collaborate with other members or hosting a blogger event of your own? Add us on our private members only Facebook page where you can share events with our local blogger community:
https://www.facebook.com/groups/thedcbloggers/
Lastly, don't forget to tag us on Instagram for a chance to be featured on our IG page!
@thedcbloggers, #DCBlogger #KindCollaboration #CommunityoverCompetition
Organizer of DC Bloggers Meetup: Travel Blogging Tips & Tricks
We are a network of blogger communities, dedicated to growing our members' brands and incomes via in-person meetups, online workshops, and brand collaborations. Join us: thebloggerunion.com