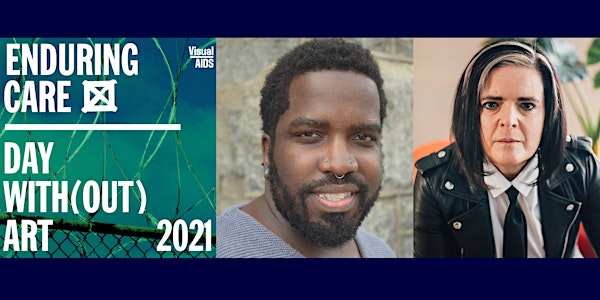 Day With(out) Art 2021: ENDURING CARE
The Chazen Museum of Art is proud to partner with Visual AIDS for Day With(out) Art 2021 by virtually presenting ENDURING CARE.
About this event
Please note, this program may not be suitable for all audiences. It contains sexual content.
ENDURING CARE is a video program highlighting strategies of community care within the ongoing HIV epidemic. The program features newly commissioned work by Katherine Cheairs, Cristóbal Guerra, Danny Kilbride, Abdul-Aliy A. Muhammad and Uriah Bussey, Beto Pérez, Steed Taylor, and J Triangular and the Women's Video Support Project.
From histories of harm reduction and prison activism to the long-term effects of HIV medication, ENDURING CARE centers stories of collective care, mutual aid, and solidarity while pointing to the negligence of governments and non-profits. The program's title suggests a dual meaning, honoring the perseverance and commitment of care workers yet also addressing the potential for harm from medications and healthcare providers. ENDURING CARE disrupts the assumption that an epidemic can be solved with pharmaceuticals alone, recasting community work as a lasting form of medicine.
Our virtual screening of ENDURING CARE will begin at 5:30 pm. After the screening, join us for a conversation with Abdul-Aliy A. Muhammad and Jill H. Casid about "visual activism, getting free, radical practices of care in community, the roles of erotic poetry and photography in relation to activist journalism, and forms of pleasure activism alongside grief and doula work and using discomfort and vulnerability as resistance."
Abdul-Aliy A. Muhammad and Uriah Bussey's film, #Medstrike: Confronting the Non-Profit Industrial Complex is featured in ENDURING CARE. The film chronicles Muhammad's successful 2017 medication strike against structural racism in the non-profit industry. Building on the work of the Black and Brown Workers Cooperative Muhammad co-founded, Muhammad refused to take their HIV medication until Nurit Shein, then Executive Director of the Mazzoni Center (an LGBT health clinic in Philadelphia), was held accountable and fired for the failure to address systemic racism and abuse of the people living with HIV from the majority Black and Brown communities the non-profit claimed to serve.
This program will be presented on Zoom. A link to the meeting will be sent to you upon registration completion.
Visual AIDS is a New York-based non-profit that utilizes art to fight AIDS by provoking dialogue, supporting HIV+ artists, and preserving a legacy, because AIDS is not over.
About the Presenters:
Abdul-Aliy A. Muhammad is a Philadelphia born writer, organizer, and co-founder of the Black and Brown Workers Co-op. In their work, they often trouble ideas of medical surveillance, bodily autonomy, and Blackness. They blog at TheBody where you can read key interventions, including "Our Covid-19 Response is Living in the House HIV Activists Built," "Dealing with the Loss of Intimacy in the Time of Digital Funerals," "Desiring Intimacy After an HIV Diagnosis, in a Time More Naked Than Sexy" and "Grindr of Gears: An App for the Surveillance State" for The Gran Varones. They published a chapbook of poetry, A Flower Left to Wilt (2019) and released a series of beautiful and erotic photographs of themselves taken by Ero Rose. On April 21, 2021 Muhammad wrote the article in the Philadelphia Inquirer that broke the story that Penn and Princeton have held the remains of 1985 MOVE bombing victims #TreeAfrica and #DelishaAfrica without permission.
Jill H. Casid is Professor of Visual Studies at the University of Wisconsin-Madison. A historian, theorist, and practicing artist, Casid's research participates in critically extending the scope of intersectional crip and queer-feminist interventions in visual studies. Her contributions include her monographs Sowing Empire: Landscape and Colonization (Minnesota, 2005) which received the College Art Association's Millard Meiss award and Scenes of Projection: Recasting the Enlightenment Subject (Minnesota, 2015) and the edited collection Art History in the Wake of the Global Turn (Yale, 2014) co-edited with Aruna D'Souza. From 1991 to 2002 she pursued her art practice as part of the photography and performance collaborative SPIR and has since been producing work solo. Her artwork has been exhibited both locally and internationally and is discussed in such surveys as Harmony Hammond's Lesbian Art in America and Deborah Bright's The Passionate Camera.