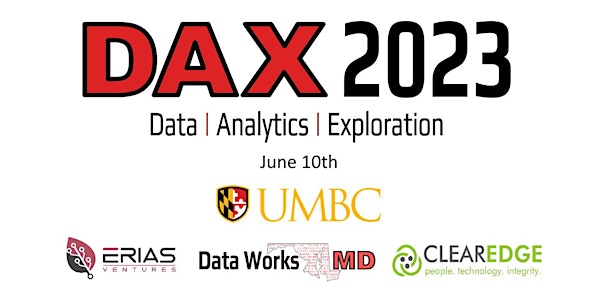 DAX 2023: Data | Analytics | Exploration
Premiere Maryland conference on data science, analytics, and data exploration! Food, drinks, and networking with experts in the field.
Date and time
Saturday, June 10 · 8am - 7pm EDT
Location
UMBC Performing Arts & Humanities Building 1000 Hilltop Circle Baltimore, MD 21250
About this event
DAX is Maryland's new premier data conference focused on data science, analytics, and data exploration. Join fellow engineers, data scientists, analytic developers, system architects, and business leaders to learn about and discuss the future of AI, data governance in state and local government, ethical AI, data-based investigative reporting, and AI/ML innovation within the defense industry.
The conference will be in person at UMBC on June 10th and will include a terrific lineup of speakers, a full day of food, and an evening of cocktails and networking. Representatives from government, local companies, and universities will be available for discussion and questions.
Sponsors include:
The full schedule is available online.
Agenda
9:20 AM - 10:05 AM
Top 3 Things I learned - John Elder, Founder & Chair
10:10 AM - 10:55 AM
A Space Race to Cybersecurity - Zach Casper, VP of Engineering
11:00 AM - 11:45 AM
BCSTAT - Data Driven Baltimore County - Momen Abukhdeir, Chief Data Officer
11:55 AM - 1:00 PM
Lunch & Birds of a Feather
1:05 PM - 1:50 PM
Combining Disparate Data - Ruthe Huang, CDS & James Dempsey, CTO
1:55 PM - 2:40 PM
Is a Data Science Team Needed? - Matt Eckert, Director Data Science
3:05 PM - 3:50 PM
Top Machine Learning Tips and Tricks! - Timothy Clendaniel, Chief AI Learning
3:55 PM - 4:40 PM
Beat the Streak! With ML, Python, and Data - Lucas Kelly,Data Scientist
5:00 PM - 7:00 PM
Cocktails & Networking
About the organizer
Data Works MD consists of professionals, students, and enthusiasts living and working in the Maryland area that are interested in topics related to data science, data analytics, data products, software engineering, machine learning, and other data engineering topics.
Our monthly events feature presentations and discussions from local experts.
Our monthly newsletter features links to interesting articles, tutorials, and tools related to data science, analytics, and big data.
If you are interested in speaking at a future event, becoming a Data Works MD partner, or have any suggestions or comments, please email info@dataworksmd.org
Resources
------------------
Main website: https://dataworksmd.org
Sign up for the new monthly newsletter at http://news.dataworksmd.org
Join us on Slack at http://slack.dataworksmd.org
Newsletter Archive: http://archive.dataworksmd.org
Event Videos: http://videos.dataworksmd.org
Twitter: http://twitter.dataworksmd.org
Facebook: http://facebook.dataworksmd.org
LinkedIn: http://linkedin.dataworksmd.org 
Partners
------------------ 
Erias Ventures - https://www.eriasventures.com
Varen Technologies - http://www.varentech.com/
ClearEdge - http://clearedgeit.com/