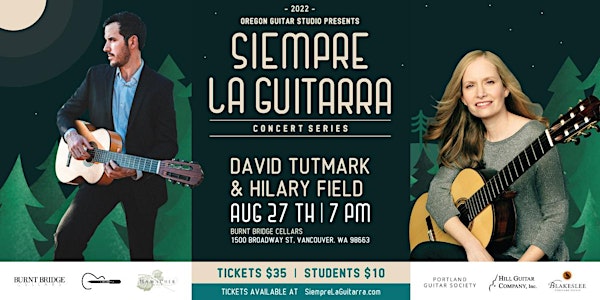 David Tutmark and Hillary Field at Burnt Bridge Cellars
Join us for a magical evening of music and wine at Burnt Bridge cellars! This concert will feature Siempre La Guitarra Artistic Director...
When and where
Location
Burnt Bridge Cellars 1500 Broadway St, Vancouver, WA 98663 Vanvouver, Washington 98663
About this event
Join us for a magical eveing of music and wine at Burnt Bridge cellars! This concert will feature Siempre La Guitarra Artistic Director David Tutmark and Seatle Washington based virtuoso guitarist Hillary Field.
David Tutmark
Guitarist David Tutmark maintains a busy schedule in the Pacific Northwest as well as performing abroad. After earning a Bachelor's degree in classical guitar performance from PSU, David began a successful performance career, giving over 350 concerts between 2012–2019. David has toured extensively as a soloist as well as a member of an international guitar duo, performing in Chile, Mexico, Italy, and across the United States. In 2018 he did an extensive solo tour of Chile as part of the Entrecuerdas guitar festival. He has performed for the US consulate in Pakistan as well at Pakistan's premier music festival Lahooti Melo, for an audience of 20,000. In 2019, Mr. Tutmark was invited to perform at the prestigious international guitar festival "Cuerdas Al Aire" in Lima Peru. David is also on faculty at Clackamas Community College in Oregon City Oregon where he is the professor of classical guitar. Throughout 2019, Mr. Tutmark worked closely with a Portland Oregon based composer to create a new concerto for guitar and orchestra, which David premiered in 2022. In 2018 David's passion for the guitar led him to create a new classical guitar concert series in Portland Oregon called "Siempre La Guitarra" which features incredible guitarists from all over the world. Whether for audiences large or small David is known for his visceral yet polished style of playing, and consistently delivers captivating performances of traditional and contemporary classical guitar.
Hillary Field
International performing and recording artist, Hilary Field, has garnered praise for her dynamic virtuosity, her sensitive musicianship, and for the emotional depth she brings to the heart of classical guitar music. Her recordings and live performances have garnered numerous awards and critical acclaim, and have inspired several composers to write and dedicate music to her. Her work as a soloist, chamber musician, arranger, and composer, highlight her creative and interpretative gifts.
"Field is a dynamic player. She doesn't just recite what can often be complex work, but imbues it with fire and grace."
- The Seattle TImes