Description
The Interval at Long Now welcomes
David Lang (founder OpenROV, author of Zero to Maker)
Citizen Science: How It Works, Why It's Important, and Where It Might Take Us
Check-in begins 6:30pm; talk will start 7:30pm sharp
at The Interval at Long Now

As co-founder of the underwater robot maker OpenROV, David Lang can report from the front lines of the growing citizen science movement. His products enable a community of citizen ocean explorers, just as many other amateur enthusiasts around the globe use unprecedentedly powerful, cheap technologies (and the scientific method) to explore the natural world
.

David will give us a hands-on tour of his company's soon to be released model Trident (shown above) which was funded via Kickstarter. Long Now's Stewart Brand will host and talk with David onstage.

David Lang is an inspiration to anyone who has dreamed of making, but has been hesitant to start because they feel they don't have the necessary skills. As David will show you, all it takes is curiosity, passion, and a willingness to learn from your mistakes.
—Mark Frauenfelder, Editor-in-Chief, MAKE Magazine
Long Now members can view a free livestream of this event online. Join Long Now for access to live streams of our Seminars and Interval events.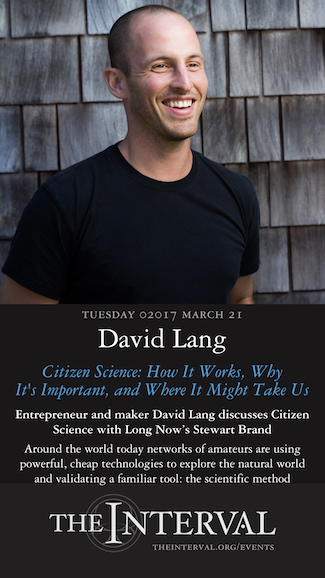 David Lang is a co-founder of OpenROV, creators of low-cost underwater robots. He is the author of Zero to Maker in which he chronicles his journey from under-skilled beginner to manufacturing entrepreneur and ocean explorer. He is a TED Senior Fellow, a National Geographic Explorer and a member of NOAA's Ocean Exploration Advisory Board. Prior to underwater robots, David managed OCSC Sailing School in Berkeley where he helped hundreds of students learn to sail and led sailing adventures around the world.
[Trident] is also a kind of manifesto, an exhortation to humanity to join together with their robots and explore the universe.
—Annalee Newitz, io9.com

Long Now members hear about Interval events first: become a member today