Learn Unreal Engine, ZBrush and more in this 3-day Game Design & Visual Effects experience provided by DAVE School.
About this event
Dive into the worlds of Game Design & Visual Effects in this 3-day experience and learn industry programs. See how DAVE School prepares students for careers in game design, film and television effects, game art, print advertising, military simulation and more.
Ticket Price includes:
3 -day workshop in which students will learn both Visual Effects and Game Production including programs Unreal Engine and ZBrush.
3D Scan and Green Screen Capture Workshop
1-day Anytime Season One Park Ticket, Universal Studios Florida or Universal's Islands of Adventure.
Campus Tour
Daily Breakfast and Lunch
The deadline to purchase tickets is July 12, 2021 at 6:00 pm EST.
Other product and company names mentioned herein may be the trademarks of their respective owners. The appearance of these marks does not necessarily indicate a formalized sponsorship or affiliation with other such companies.
If you have any questions about the event, please call 855-559-1066.
To learn more about DAVE School, please visit daveschool.com.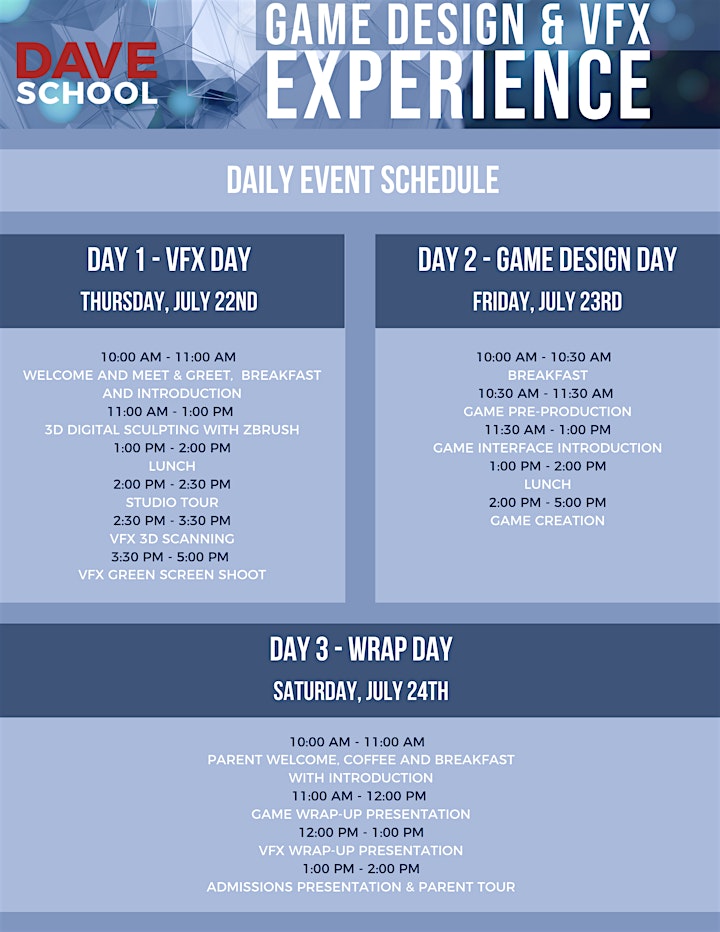 Organizer of DAVE School Game Design & VFX Experience
The Dave School Difference
DAVE promotes studio-ready philosophies and immerses students through an intensive 30 hours per week — 50-week diploma program, pushing the limits of what is possible through valued academic and Industry partnerships.

Our focus is to get you #CareerReady so you can get right to work in the industry in less than 12 months. Once you are out, you can complete your Bachelor's degree online to advance your career opportunities abroad or at home in leadership roles.

With 20 years of award-winning work behind us, we know you will love studying with the experts. #onlyatDave

You too can be an industry expert
Dave School consistently produces skilled graduates who are uniquely prepared for industry positions.

Exciting examples of our alumni portfolio include titles such as Avengers: Endgame, Rogue One: A Star Wars Story, Spiderman: Into the Spider-Verse, The Mandalorian, and Stranger Things 3.

Notable Games include Anthem, Call of Duty: Modern Warfare, Fortnite, Star Wars: Battlefront 2, Madden 15, and NBA Live 19.