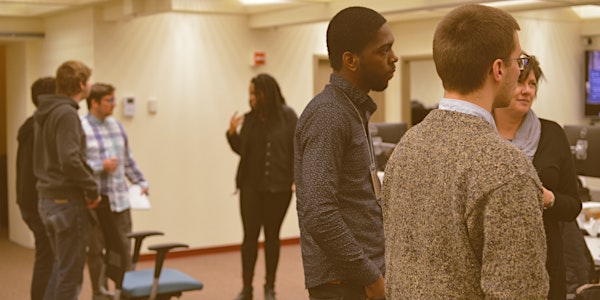 DataWorks: Delaware's First Open Data Hackathon
When and where
Date and time
Saturday, June 4, 2016 · 8:30am - 6pm EDT
Location
1313 Innovation 1313 North Market Street Wilmington, DE 19801 United States
Refund Policy
Contact the organizer to request a refund.
Description

Help businesses and communities to do more and better with data

What is DataWorks?
Today data is everywhere. But it's not always accessible or put to use. Let's change that.
For the first time, Delaware will host an event for the National Day of Civic Hacking. You can help foster a positive and open culture in the First State.
Join community members, business leaders, creatives, and programmers at DataWorks. Don't code? No problem. Successful groups will still need you.
Together, we'll build prototypes of open source software. Our goal is to make open data accessible and useful to businesses, residents, and local government.
Experience the technologies and teamwork that are helping people to do more, and get inspired about what you can do with open data.
Register today!
---
What's does the DataWorks day look like?
It's a one day event, on Saturday, June 4

8:30 am - Participants arrive, registration, light breakfast
9:00 am - Problem lightning rounds
10:00 am - Teams form
10:15 am - Open work time
12:00 pm - Lunch, Open work time continues
4:30 pm - Demos
5:30 pm - Drinks!
---
Great! I still have some questions about DataWorks.
How do I get involved? Do I pay anything?
We'd love to see you contribute on one of our teams. Participation is free, but please help us by registering in advance at the link above. Registering early helps us manage our resources. Singing up at the last minute is OK! But you still need to register.
What sorts of problems will we work to solve?
You'll help solve interesting and wide-ranging problems presented by local businesses, entrepreneurs, and business advocates. We want fresh ideas and collaboration, so we're not revealing the ideas until the event.
How do I form a team?
After the problems are presented, you'll have the opportunity to join a team based on the problem that most interests you. A typical team is four to six people. Depending on the number of participants and the popularity of the ideas, multiple teams may address the same problem.
The most successful teams will have a diverse talent pool: developers, designers, community members, etc. Everyone should be able to bring a different skill to the table.
I can't code. I'm not a designer. I barely know what open data is. Can I still participate?
Of course! DataWorks is an inclusive event. Apart from any skill as a developer or designer, you have a place at the event. You'll have the chance to contribute to the ideation process, learn some new skills, or simply help with research. There are plenty of ways to be involved.
This is part of a national event?
Yes. And it's attracting more interest every year. Open data is a hot topic. Search online for "National Day of Civic Hacking." You'll find events all over the country.
What is a hackathon? Isn't hacking something that's discouraged?
Don't believe the hype! Hacking means pulling together different strands of knowledge to form an effective solution.
Come to DataWorks. You'll meet diverse people who share your interests. And you might even discover some new skills.
I'm interested in the idea of open data. How can I stay involved beyond DataWorks?
You can join us at Open Data Delaware. We meet about twice per month for speakers and hack nights. All are always welcome!