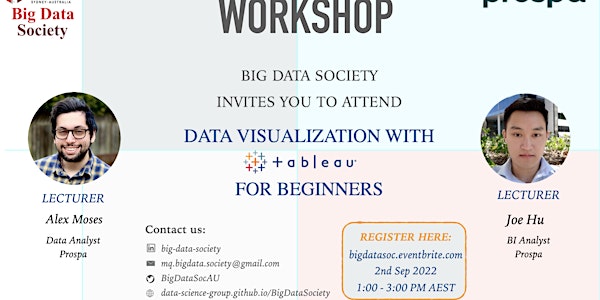 Data Visualization With Tableau For Beginners
Data Visualization With Tableau
About this event
Join us for an interactive workshop where we will look at a typical data analyst's workflow and the role that Tableau plays in it. You will be learning from the experts in the field and work with real Tableau examples, and you'll leave having made numerous unique visuals from scratch.
To get the most out of this workshop, make sure you have downloaded the free version of Tableau, called Tableau Public, available here.
What you'll learn:
Best practices for analysing data
How to use Tableau
Hands-on walkthrough of visualizing a dataset
And so much more...
Lecturers:
Mr Joe Hu is a BI/Data Analyst at Prospa.
Mr Alex Moses is a Data Anlyst at Prospa.