Description
Have you moved your application to the cloud? Are you thinking about it? Great! Now… how are you securing it?
Security becomes paramount when you move your data to the cloud - after all, it is a much more public resource than the corporate network you're accustomed to using. Depending on the platform you choose, the vendor may take care of part of the security needs, but they don't handle all of them. So what, exactly, is your responsibility? And where do you start?
Microsoft MVP Ed Leighton-Dick will answer these questions and more in this full-day workshop on how to best secure your data in the cloud. Topics will include the most common vulnerabilities your data will face on a cloud platform; differences between the current offerings on the major cloud platforms; and the implementation of technical necessities like authentication, encryption, connection security, and monitoring. Whether you've already moved to the cloud or are just thinking about it, this is a session you won't want to miss!

Intended Audience
This course is intended for database administrators and others responsible for maintaining the security of database systems.
Prerequisites
Attendees with the following experiences will benefit the most from this course:

1-3 years of experience administering SQL Server databases in some capacity
A copy of the reference slides and demonstrations will be provided to attendees for reference and experimentation in their environments.

---
About the instructor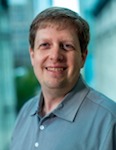 Ed Leighton-Dick is a Microsoft Data Platform MVP and SQL Server performance and architecture specialist with over twenty-five years of experience in development, database administration, and system administration. He is the founder and principal consultant for Kingfisher Technologies, a consultancy focused on SQL Server performance, reliability, and security. Ed volunteers his time with PASS, including roles as Midwest Regional Mentor, Chapter Leader of I-380 PASS SQL Server User Group, and organizer of SQLSaturday Iowa City. He can often be found teaching sessions at local, regional, and national events, including user groups, SQLSaturday, Iowa Code Camp, 24 Hours of PASS, and PASS Summit. Outside of work, he is a devoted husband, father of two beautiful girls, and beginning runner.
Ed can be reached through his blog, edleightondick.com, and on Twitter at @eleightondick.

About SQLSaturday Chicago
SQLSaturday is a free training event for Microsoft Data Platform professionals and those wanting to learn about SQL Server, Business Intelligence, and Analytics. This event will be held on March 17, 2018, at Benedictine University in Lisle, IL. For more information, visit the event website.
---
IMPORTANT: Registering for this pre-conference workshop does not automatically register you for the SQLSaturday event. Please visit the SQLSaturday site to register for the sessions held on Saturday, March 17.