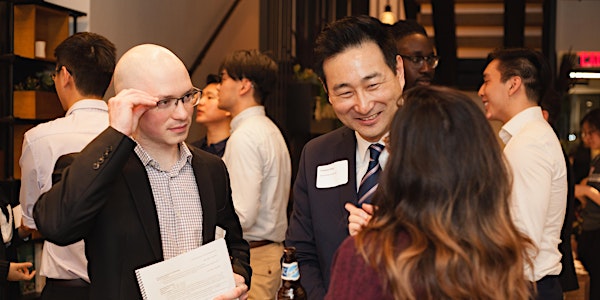 Data Scientist & Employer Networking Event
When and where
Location
WeWork Penn Station 315 W 36th St 2nd Floor New York, NY 10018
Description
Join us for a night of cocktails and networking, where you'll meet each of our graduates in person and chat more about their projects.
The event is for employers and NYC Data Science Academy recent graduates and alumni only.
This is an opportunity for employers to meet some great talent and hire them.
Over the course of 12-week intensive data science program, our students become proficient data scientists using R, Python, Hadoop & Spark, Github, and SQL as well as the most popular and useful R and Python packages like TensorFlow, dplyr, tidyr, ggplot2, Pandas, Scikit-learn, Seaborn, and more. Students demo their four projects that use techniques from visual and statistical analyses to supervised and unsupervised machine learning algorithms. Rigorous training of these stellar candidates leads to a highly talented pool of potential hires for your data science needs!
Students come to NYC Data Science Academy with a variety of industry backgrounds, and over 70% hold advanced degrees (Masters or PhD).
We do NOT charge a recruiting fee, which is one of the many things that sets us apart. Feel free to join the pool of other great companies that have hired data scientists from the NYC Data Science Academy bootcamp in the past: IBM Watson, BOSCH, Spotify, Nielsen, WorkFusion, JP Morgan Chase, Bloomberg, Goldman Sachs, Morgan Stanley, Booz Allen Hamilton, Finra, BNY Mellon, Memorial Sloan Kettering, Aetna, MD Anderson Cancer Center, Mount Sinai Hospital, Medivo, Boston Scientific, Mindshare, Verizon, Ladders, O'Reilly Media, Earnest, NYC Dept of Finance, Nuance, Unified, Cognizant, IHeartRadio, Uptake, Hearst, Ascap, Splash, Basho Tech and Ameritas Group, Elasticiti (NBC Universal), KickStarter, Balyasny Asset Management LP, Dashlane, 2U, CKM Advisors,Barclays Bank, CapitalOne, Cota Health Care, Lincoln Financial service and more.
Event Details:
Once you arrive and register at our check-in desk, you'll receive the access to our student resumes featuring each of our recent data science graduates.
The focus of this networking event is to provide an informal environment for the employer to meet our students and learn more about their skills and background paired with some great food and wine!
What Happens After the Event:
After the event, you will receive an electronic version of the resume book. We are more than happy to facilitate phone interviews, code challenges, and onsite interviews on our campus or in your office. We will also be collecting feedback from you to better understand your data science staffing needs. We also encourage you to reach out to students directly.
For more information, visit: http://nycdatascience.com/data-science-bootcamp/
Special Thanks to WeWork:
WeWork is the platform for creators. We provide beautiful workspace, an inspiring community, and meaningful business services to tens of thousands of members around the world. From startups and freelancers to small businesses and large corporations, our community is united by a desire to create meaningful work and lead meaningful lives—to be a part of something greater than ourselves. Together we can accomplish much more than we ever could alone. Learn more about our community here.
Have friends who are interested in WeWork? When you help grow our community, you'll earn a 10% referral bonus every month for up to 1 year.