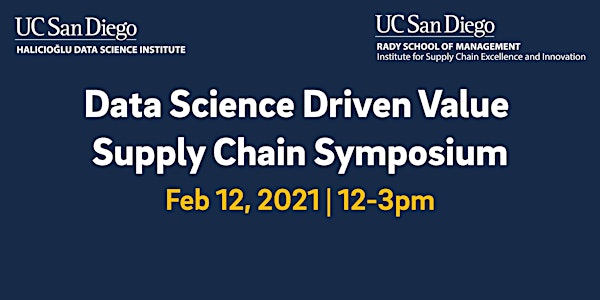 Data Science Driven Value Supply Chain Symposium
UC San Diego presents Data Science Driven Value Supply Chain: "When the value supply chain and data science meet"
About this event
Co-hosted by Rady School of Management, Institute for Supply Chain Excellence and Innovation (ISEI) and Halıcıoğlu Data Science Institute (HDSI), the inaugural symposium informs and shares the latest industry development in value chains enabled by data analytics technologies.
Join undergraduate and graduate students in business, economics, engineering, and data science, in addition to the faculty and business community in both fields of the value chain and data science at this timely event. The virtual symposium includes keynote presentations, fireside chat, and panel discussions with leaders in this field.
Featured Guest Speakers:
Tom Linton, Former Chief Supply Chain Officer, Flex, Board of Advisors ISEI
Mark Messow, Founder, Techipartners & TransformBio AG , Board of Advisors ISEI
Bastiaan Don, CEO and Founder, Token Factory
Don Gossen, CEO and Founder, Keyko (Global leader crypto & advanced analytics)
Paul Kohlhaas, CEO and Co-Founder, Molecule
Sean McCray, Director of Supply Chain Data Analytics, Thermo Fisher Scientific
Helen Wang, CEO and Founder, Vice Chair ISEI, Former Executive at Google and Apple
Emily Ma, Head of Food for Good, Google Inc.
Mani Janakiram, Senior Director of Global Supply Chain, Intel Corporation
Walter Charles, Chief Procurement Officer, CSL Behring, Board of Advisors ISEI
Krishna Chitta, Director of Logistics, Strategy and Optimization, Petco
Ranna Rose, Vice President of Operations and Customer Success, Resilinc
Formal agenda and virtual webinar link will be sent to registered attendees prior to the event
About Rady School of Management
Founded in 2003, the Rady School of Management at the University of California has pioneered a new model for business education shaped by the needs of the innovation-driven industry sectors that drive economic growth and social value in San Diego and beyond. Focused on developing entrepreneurially-minded leaders able to turn innovative ideas into sustainable realities, the Rady School has gathered some of the finest faculty in the world and fosters a tight network of students, faculty, alumni, and business community advisors and supporters.
About Halıcıoğlu Data Science Institute
Since its founding in 2018, HDSI has been laying the groundwork for the scientific foundations of the emerging discipline of data science, developing new methods and infrastructure, and training students, faculty and industrial partners to use data science in ways that will allow them to solve some of the world's most pressing problems. HDSI serves as a unique, collaborative, and innovative academic unit across multiple disciplines at the University of California, San Diego.