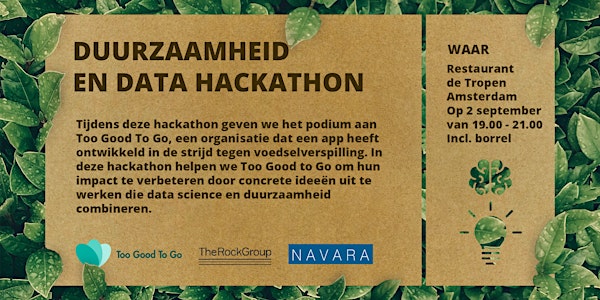 Data Science and Sustainability Hackathon
GEZOCHT: Duurzaamheid en data gurus om krachten te bundelen in strijd tegen voedselverspilling in eerste 'Data en Sustainability Hackathon!'
When and where
Location
De Tropen café-restaurant 64 Mauritskade 1092 AD Amsterdam Netherlands
About this event
(English follows Dutch)
HEY JIJ DAAR! BEN JIJ…..
Een duurzaamheid professional met affiniteit voor data?
Een data professional die graag zijn steentje wilt bijdragen aan een duurzamere wereld?
Iemand die graag in een van deze domeinen zijn netwerk wilt vergroten?
Iemand die out of the box kan denken voor 'the greater good'?
Dan is deze hackathon voor jou!
De wereld is de afgelopen vijf jaar ingrijpend veranderd. De smartphone, de ontwikkelingen rond het "Internet of Things" en Big Data zijn niet meer uit ons dagelijks leven weg te denken! Daarnaast is duurzaamheid tot een van de belangrijkste thema's uitgegroeid van deze tijd.
Toch lijken data science en duurzaamheid nog weinig geïntegreerd. Daar willen wij verandering in brengen. Daarom hebben Navara en TheRockGroup hun krachten gebundeld en organiseren op woensdag 2 september de allereerste "Data Science and Sustainability Hackathon".
Tijdens deze hackathon geven we het podium aan Too Good To Go, een organisatie dat een app heeft ontwikkeld in de strijd tegen voedselverspilling. Met de app kunnen gebruikers eten ophalen bij winkels, bedrijven of restaurants dat normaliter weggegooid zouden worden. De 1,7 miljoen gebruikers en meer dan 50.000 partners hebben al meer dan 42 miljoen maaltijden bespaard. In deze hackathon helpen we Too Good to Go om hun impact te verbeteren door concrete ideeën uit te werken die data science en duurzaamheid combineren.
Programma:
Kick-off
Hoe doe je een data science project? [Eva Oudemans van NAVARA]
Hoe verwerk je duurzaamheid in je organisatie? [Bertus Tulleners van TheRockGroup]
Too Good To Go [Jurjen de Waal]
Hackathon
Drinks en netwerken!
SCHRIJF JE SNEL IN! MAAR 40 PLEKKEN!
Samen met restaurant de Tropen zorgen wij dat alle RIVM Covid19-maatregelen in acht worden genomen zodat iedereen veilig kan deelnemen aan de hackathon.
-----------------------------------------------------------------------------
HEY YOU! ARE YOU…..
A sustainability professional with an affinity for data
A data professional willing to contribute to a sustainable world
Someone wishing to grow their network in one of these fields
Someone able to think outside of the box for 'the greater good'?
Then this is the hackathon for you!
The world has completely changed these past five years. Smartphones, Internet of Things and Big Data have taken up a central part in our lives, while sustainability has become one of the key themes of our times.
Yet there seems to be little interaction between the domains of data science and sustainability. We want to change that. In order to do so, Navara and The Rock Group joined forces and are organizing the first "Data Science and Sustainability Hackathon" on Wednesday september 2nd.
During this hackathon we give the stage to Too Good To Go, an organization that developed an app to battle food waste. With this app users can buy food from stores, companies or restaurants that would have otherwise been thrown away. The 1.7 million users and more than 50,000 partners have saved over 42 million meals. In this hackathon we will help To Good To Go to increase their impact by developing concrete ideas that combine data science and sustainability.
Programme:
Kick-off
How to design a data science project [Eva Oudemans of NAVARA]
How to incorporate sustainability in your organization [Bertus Tulleners of TheRockGroup]
Too Good To Go [Jurjen de Waal]
Hackathon
Drinks and networking
RSVP ASAP - ONLY 40 SPOTS!
Together with restaurant de Tropen we will ensure that all the RIVM Covid19-measures will be respected to that everyone can safely participate in the hackathon.