Description
Data Mining Algorithms in SSAS, Excel, R, and Azure ML by Dejan Sarka
Description
Level 400 - Expert
Data mining as the most advanced data analysis technique is gaining popularity. With modern data mining engines, products and packages, like SQL Server Analysis Services (SSAS), Excel, R, and Azure ML, data mining has become a black box. It is possible to use data mining without knowing how it works. However, not knowing how the algorithms work might lead to many problems, including using the wrong algorithm for a task, misinterpretation of the results, and more. This course explains how the most popular data mining algorithms work, when to use which algorithm, and advantages and drawbacks of each algorithm as well. Demonstrations show the algorithms usage in SQL Server Analysis Services, Excel 2013 using the SQL Server algorithms, R, and Azure ML using the R algorithms.
Algorithms explained include Decision Trees, Naïve Bayes, Support Vector Machine, Neural Networks, Regression Trees, Logistic Regression, Linear Regression, Clustering, Association Rules, Sequence Clustering, Auto-Regressive Trees with Cross-Prediction (ARTXP), Auto-Regressive Integrated Moving Average (ARIMA), and Time Series.
Algorithms usage is explained through real life use case as well, on a fraud detection example.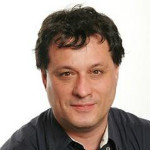 Speaker
Dejan Sarka, MCT and SQL Server MVP, is an independent trainer and consultant that focuses on development of database & business intelligence applications. Besides projects, he spends about half of the time on training and mentoring. He is the founder of the Slovenian SQL Server and .NET Users Group. Dejan Sarka is the main author or coauthor of thirteen books about databases and SQL Server. Dejan Sarka has also developed many courses and seminars for Microsoft, SolidQ, and Pluralsight.

Additional information
Lunch, snacks and printed workshop material is included. Registration for the free SQLSaturday event on September 3rd must be done through the SQLSaturday #532 Oslo website.