Description
A first look at how big data is transforming biotech

The biotech world has witnessed an explosion of data as a result of breakthroughs in genomics and computing, creating challenges and opportunities for big data in biotech. Over the past few years the amount of data generated and made available to scientists using high throughput methods have compounded by many factors, we now have access to multi omics data generated in immense quantity. The fast growing troves of complex data call to question:
What are the new sources generating data?

What are the new methods for data analysis?

Ultimately, what do these latest data trends mean for the biotech industry?
Experts from academia and industry will share perspectives on how computation, machine learning, and big data are transforming biotech; followed by startup demos and happy hour.
Speakers: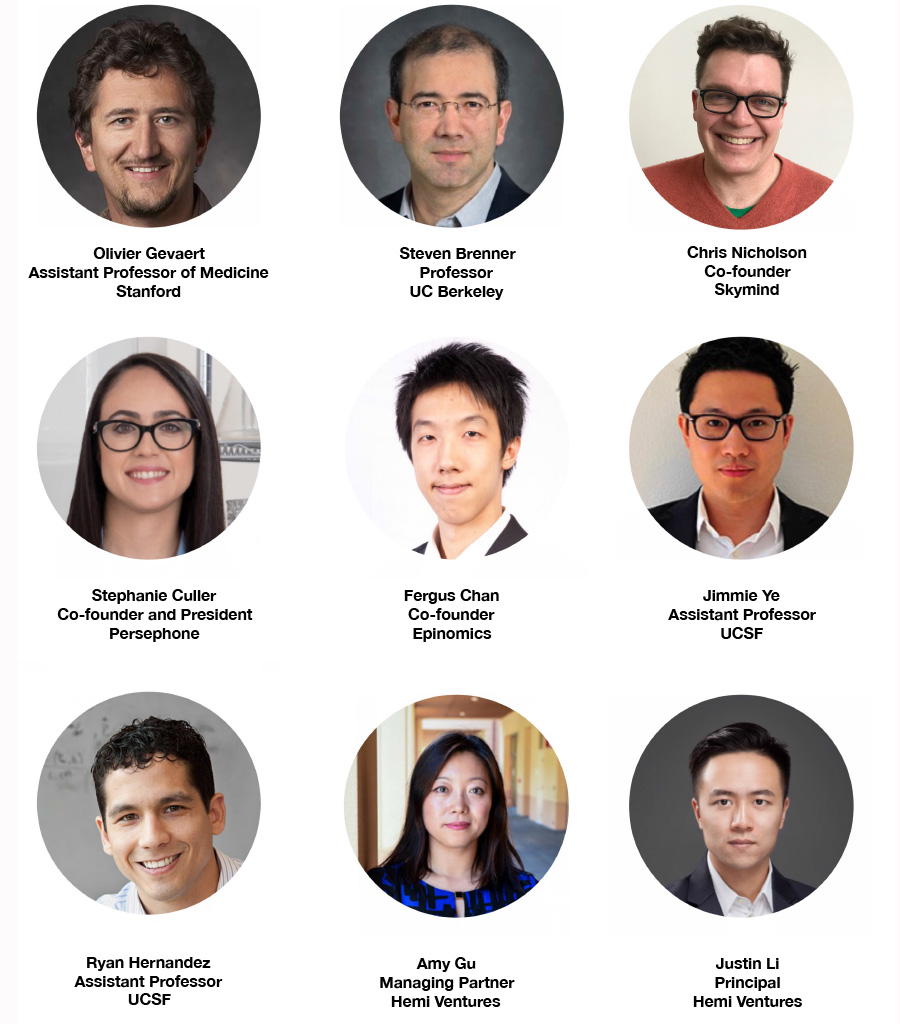 Agenda:
2:00pm-2:10pm
Opening Remarks
2:10pm-2:25pm
Keynote: Computational Epigenomics with Multi Scale Phenotypes
Olivier Geveart, Assistant Professor of Medicine, Stanford University
2:25pm-2:40pm
Keynote: Constructing the Human Immune Census
Jimmie Ye, Assistant Professor, Department of Epidemiology & Biostatistics, UCSF
2:40pm-2:55pm
Panel: Employing New Methods for Data Collection and Analytics
Olivier Geveart, Assistant Professor of Medicine, Stanford University
Jimmie Ye, Assistant Professor, Department of Epidemiology & Biostatistics, UCSF
Fergus Chan, Co-founder, Epinomics
2:55pm-3:15pm
Keynote: Curing Cancer Using Microbiome
Stephanie Culler, Co-founder, Persephone Biome
3:15pm-3:30pm
Keynote: AI Solution for Biotech Industry
Chris Nicholson, Co-founder, Skymind
3:30pm-3:45pm
Keynote: Leveraging Rare Genetic Variation across Human Popolations
Ryan Hernandez, Associate Professor, and Director, Biological and Medical Informatics Graduate Program, UCSF
3:45pm-4:00pm
Keynote: Studying Cancer Immunity by 50-color Immunofluorescent Imaging with CODEX
Nikolay Samusik, Research Scientist, Stanford
4:00pm-4:20pm
Panel: Beyond Horizon, the New Realm of Data
Stephanie Culler, Co-founder, Persephone Biome
Chris Nicholson, Co-founder, Skymind
Ryan Hernandez, Assistant Professor, UCSF
Nikolay Samusik, Research Scientist, Stanford
4:20pm-5:00pm
Mix and Mingle