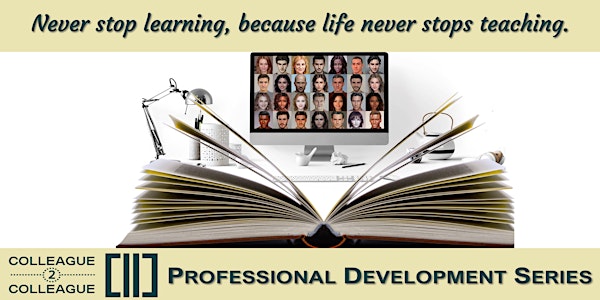 Data-Driven Teaching in the Age of Evidence
Colleague2Colleague (C2C) Professional Development Series: virtual opportunities for collaborative learning on the 4th Monday of each month.
Date and time
Monday, June 27, 2022 · 2 - 3pm PDT
About this event
Data-Driven Teaching in the Age of Evidence
Monday, June 27, 2022
4:00 -5:00 pm CDT
Description:
Higher education is fully immersed in an era that stresses the importance of data-driven decisions and results. According to Beach, Sorcinelli, Austin, and Rivard (2016), this new age is influenced by "heightened stakeholder interest in the outcomes of undergraduate education and characterized by a focus on assessing the impact of instruction on student learning." This presentation will provide examples of evidence-based, high-impact practices (HIPs) that faculty can implement in their courses. In addition, an overview of evidence-based instruction and its benefits will be provided.
Facilitator:
Tom Grady currently serves as the faculty director of the Center for Teaching Excellence at Kansas City Kansas Community College (KCKCC) for 9 ½ years and he teaches courses in the psychology department. His prior experience includes faculty development coordinator at Johnson County Community College and full-time psychology faculty at Allen and Neosho County Community College. Tom earned the National Institute Staff and Organizational Development (NISOD) Teaching Excellence Award. He has served on the board of the Kansas City Professional Development Council since 2007. Tom co-wrote a grant that was accepted by the Association of College and University Educators (ACUE) that provided the faculty at KCKCC with the opportunity to participate in the ACUE Course in Effective Teaching. Tom has been instrumental in training and presenting at local, regional, and national conferences. Currently, he is part of a workgroup through the National Institute for Staff and Organizational Development (NISOD). Tom has earned a master's degree from Kansas State University in Adult, Occupational, and Continuing Education, another master's degree from Emporia State University in Health, Physical Education, and Recreation, and earned his bachelor's degree in Secondary Education from Emporia State University.  
If you have questions or comments in advance of the session, please email the PD Subcommittee Chair, Melissa Kay Hort (mkhort@ksu.edu). You may also email inquiries at any time to Colleague2Colleague (c2c.sidlit@gmail.com).