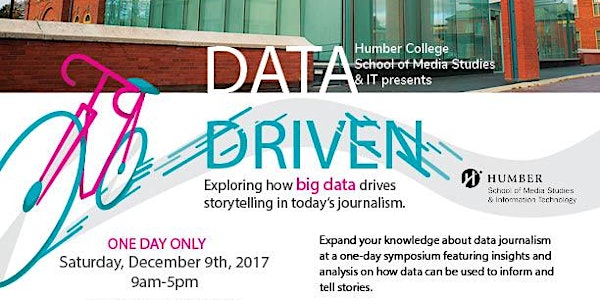 Data Driven - Presented by Humber College School of Media Studies & IT
When and where
Location
The Center for Entrepreneurship, Building G - Humber College - Lakeshore Campus 17 - 3155 Lake Shore Blvd W (Approach via Colonel Samuel Smith Park Dr.) Etobicoke, ON M8V 4B6 Canada
Description
Join some of Canada's most prolific investigative reporters, developers, coders and data advocates for a one-day data journalism symposium.
Delve into the strategies they use to turn terabytes of raw data into exclusive scoops that have already had a demonstrable impact on the politics, social justice, and day-to-day lives of Canadians.
Schedule (Subject to change)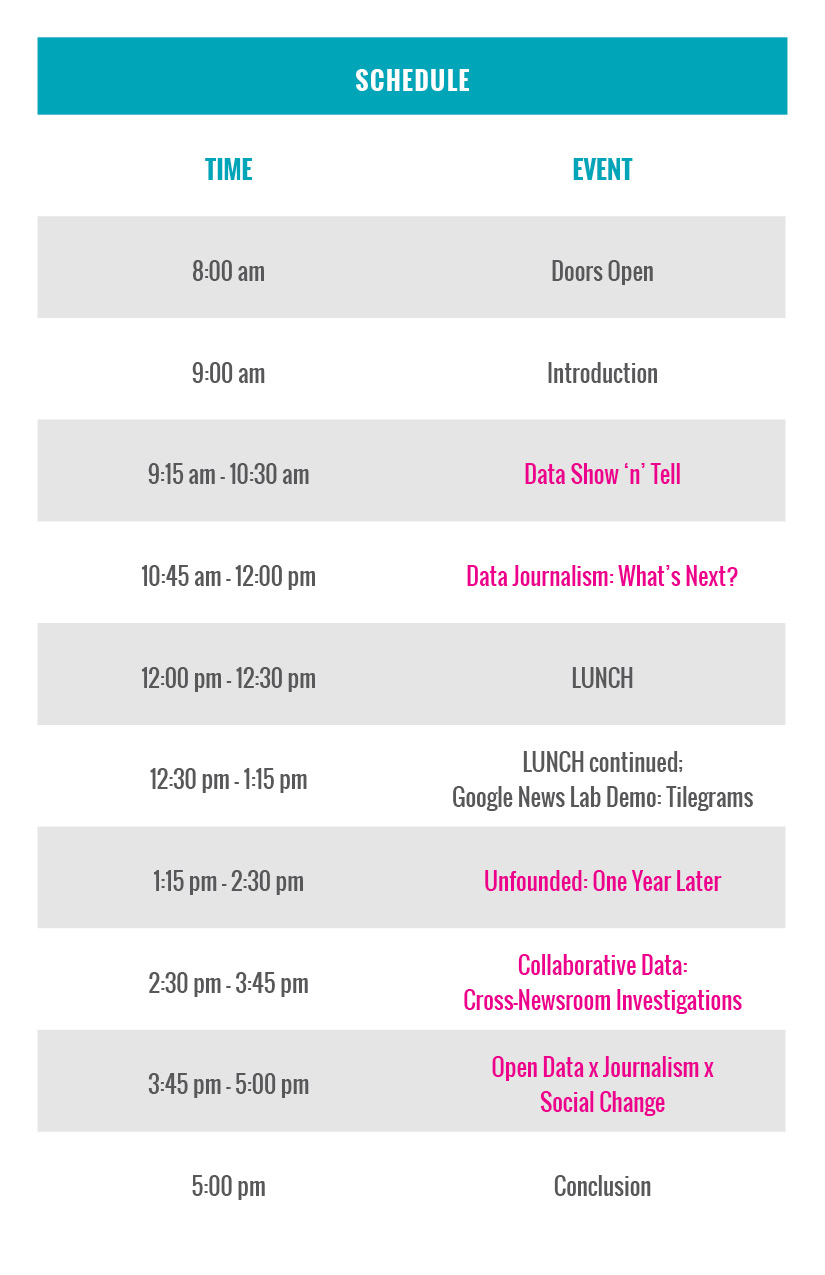 PANELS: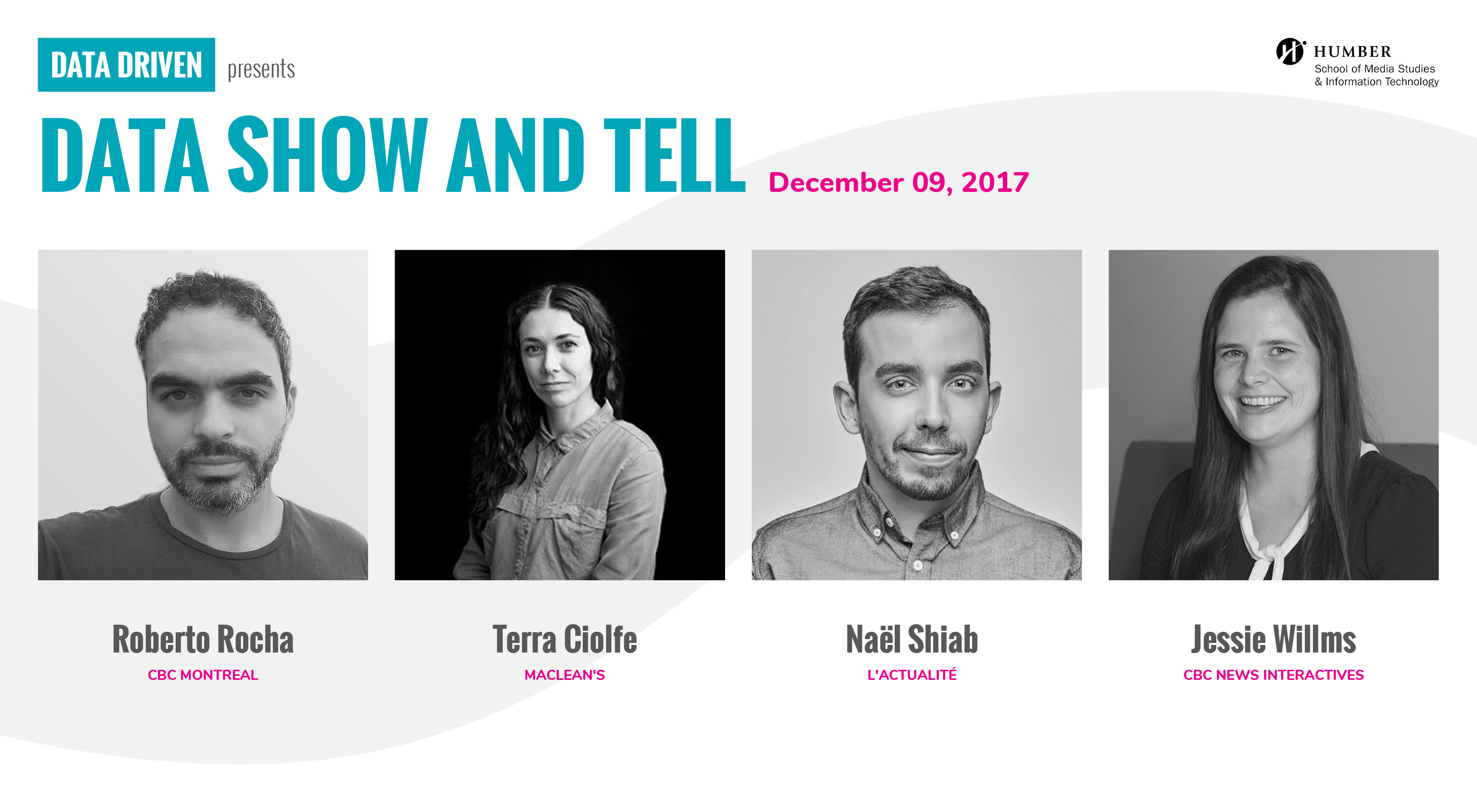 DATA SHOW 'N' TELL
Four journalists, four amazing projects. Join Maclean's Terra Ciolfe, L'Actualite's Nael Shiab, CBC Montreal's Roberto Rocha and CBC News Interactives developer Jessie Willms as they demo their favourite data-driven stories from the past year.
Speakers:
Terra Ciolfe, Maclean's
Terra Ciolfe is the data editor for Maclean's Magazine. She has previously worked at The Globe and Mail, where she contributed to the award-winning Unfounded investigation. She has a Masters of Journalism from the University of King's College, with a specialized focus on investigative and data journalism.
Nael Shiab, l'actualite
Nael Shiab is a data reporter for the news magazine L'actualité, in Montreal. His job is to use his coding skills to produce exclusive stories that are out of reach for other media outlets. His ultimate goal is to build an army of bots that would work for him, so he'll be able to listen to podcasts and drink coffee all day.
Roberto Rocha, CBC Montreal
Roberto is a data journalist at the CBC in Montreal, part of a national investigative team. Before that, he worked for 10 years in several roles at the Montreal Gazette, where he first made his bones in the data grind.
Jessie Willms, CBC News Interactives
Jessie is a web developer with CBC News Interactives in Toronto, where she has worked on developing a mapping platform for reporters as well as building longform projects. Prior to the CBC, she worked for the Toronto Star and iPolitics.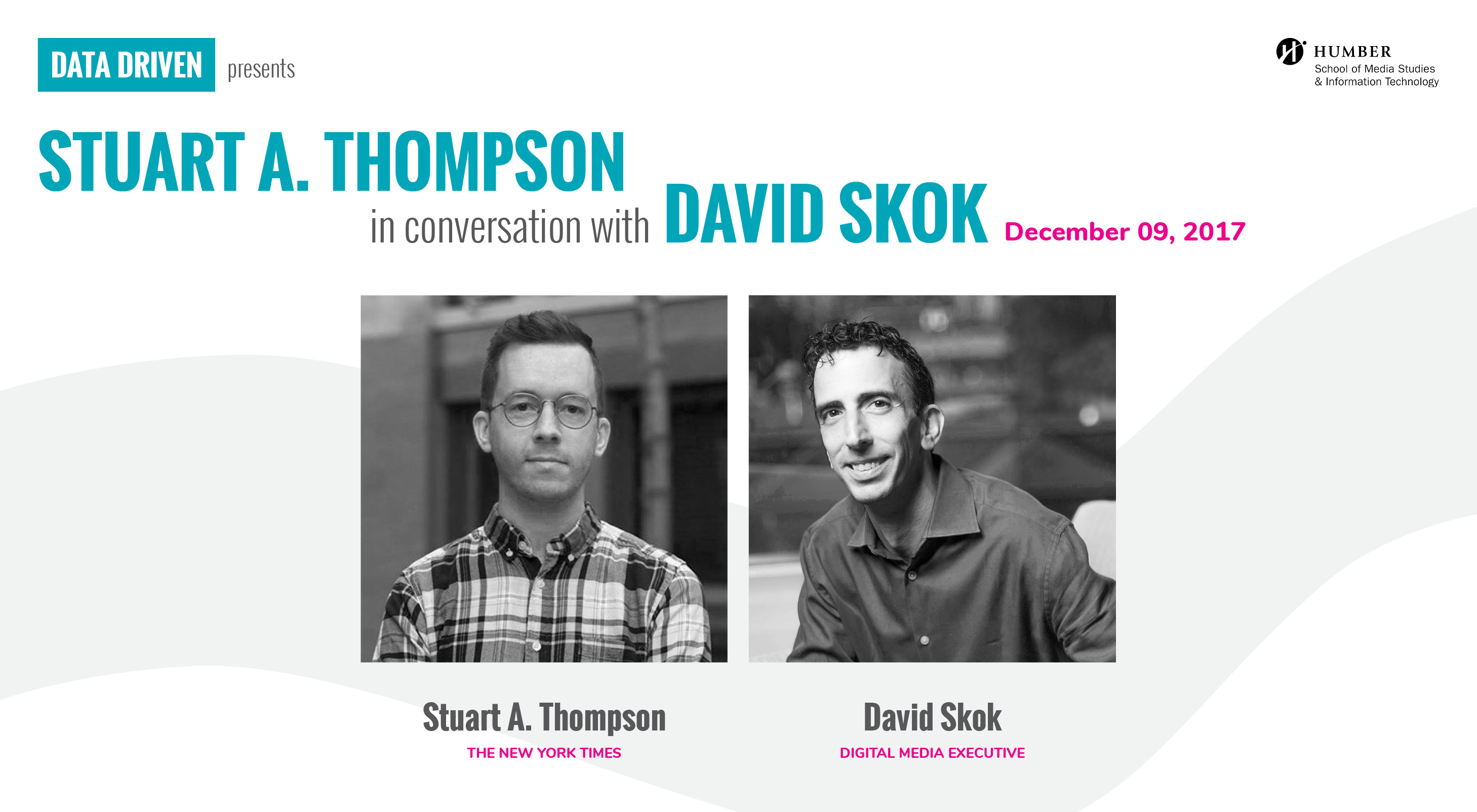 DATA JOURNALISM: WHAT'S NEXT?
Was data journalism meant to start a "revolution"? A recent paper cited by Harvard's Nieman Lab seems to think so. But was a revolution really the point? And what's next? Joining us to tackle these questions is New York Times' Opinions Graphics Editor, Stuart A. Thompson, joined by David Skok, who has spent his career transforming digital newsrooms to adapt to paradigm shifts brought on by technology.
Speakers:
Stuart A. Thompson, The New York Times
Stuart A. Thompson is the graphics director for the Opinion section. He is responsible for overseeing visual journalism within the Opinion section as head of the Graphics department. His most recent work has focused on politics, climate change and President Donald Trump. A Canadian expat, he worked at The Globe and Mail in Toronto before joining The Wall Street Journal, where he served as graphics director.
David Skok, Digital Media Executive
David has over 15 years of progressively senior digital experience in North America's leading news organizations. Most recently, he was the associate editor and head of editorial strategy at Canada's largest-circulating newspaper. He was also the managing editor and vice-president of digital for the Boston Globe, where he led the digital transformation efforts of the organization across the editorial, product, and business units.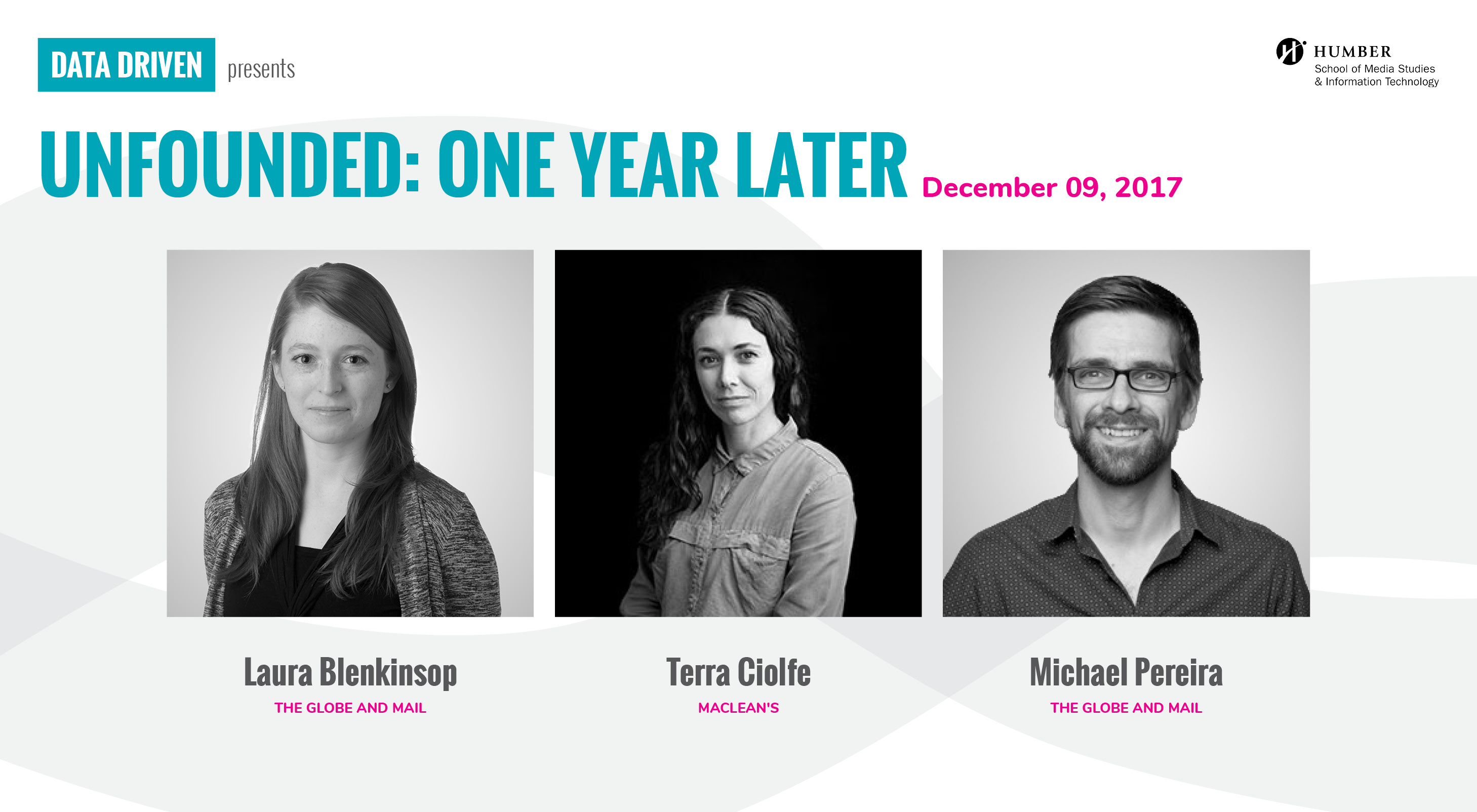 UNFOUNDED: ONE YEAR LATER
This past spring, The Globe and Mail became the first Canadian news outlet to win best investigation from the internationally-recognized Data Journalism Awards. Their groundbreaking investigation, Unfounded, exposed systemic problems around how law enforcement across the country handle sexual assault. Listen to past and present members of the Unfounded team reflect on the investigation almost one year later.
Speakers:
Michael Pereira, The Globe and Mail
Michael Pereira is a developer and data journalist who creates and uses tools to find and tell stories. His work has helped uncover issues in sex assault investigations, healthcare, missing and murdered indigenous women, pipeline and rail safety, government spending, and Canada's surveillance system.
Laura Blenkinsop, The Globe and Mail
Laura Blenkinsop is a multimedia editor focused on projects at The Globe and Mail. She brings teams with different skillsets together to tell in-depth, long-term stories online. For The Globe's "Unfounded" investigation that looks at how police in Canada handle sexual-assault investigations, she worked on co-ordinating the data and the online presentation.
Terra Ciolfe, Maclean's
Terra Ciolfe is the data editor for Maclean's Magazine. She has previously worked at The Globe and Mail, where she contributed to the award-winning Unfounded investigation. She has a Masters of Journalism from the University of King's College, with a specialized focus on investigative and data journalism.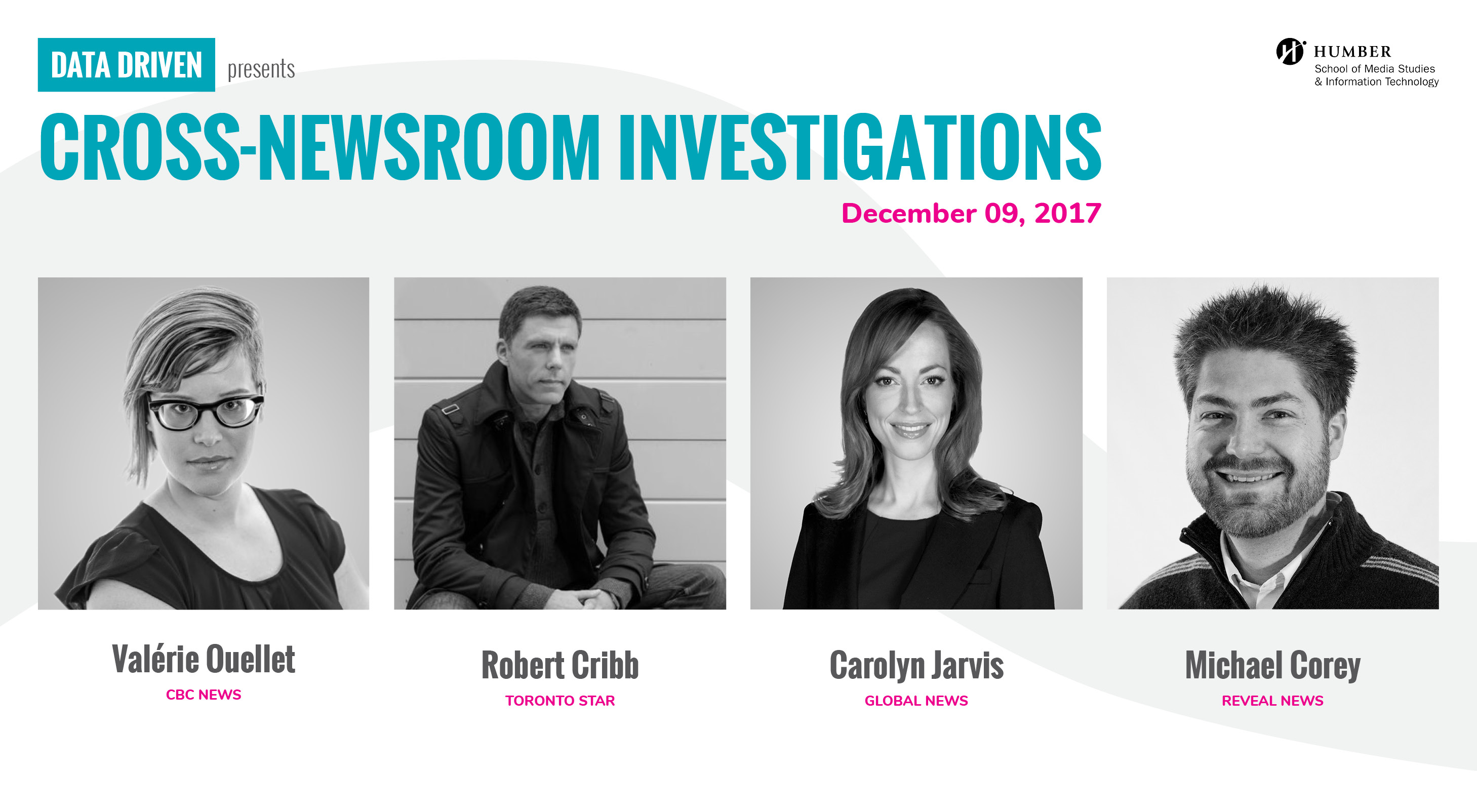 CROSS-NEWSROOM COLLABORATIONS
The Paradise Papers. Canada's Toxic Secret. Despite shrinking newsroom resources, Canada's investigative reporters have still managed to produce investigations of unprecedented scale. Their secret? A level of cross-newsroom collaboration that would have seemed unthinkable 20 years ago. Toronto Star Investigative Reporter Robert Cribb, Global News' Chief Investigative Correspondent Carolyn Jarvis and CBC Senior Data Journalist Valerie Ouellet and Reveal News' Michael Corey talk about balancing budgets, embargoes and egos across bullpens.
Speakers:
Robert Cribb, Toronto Star

Robert Cribb is an investigative reporter at the Toronto Star. He has received national reporting awards and citations for investigations into child exploitation, offshore tax evasion, police misconduct, human trafficking, dangerous doctors, and public health threats. A lecturer on investigations at Ryerson University and the University of Toronto, he has been recipient of the Michener Fellowship in Journalism Education, the Massey Journalism Fellowship, and the Atkinson Fellowship in Public Policy Reporting.
Valérie Ouellet, CBC News
Valérie Ouellet is CBC's Senior Data Journalist in Toronto. She uses data analysis to investigate and get a deeper understanding of provincial and national issues. Valérie was the lead data journalist on the Canadian team investigating the Paradise Papers Some of her recent stories have included uncovering millions in overpayments under the troubled Phoenix pay system and looking at unpunished allegations filed against RCMP officers. She also teaches data journalism at Humber College in Toronto. Valérie has a Masters in investigative journalism (2016) from the University of King's College, in Halifax.
Carolyn Jarvis, Global News

The network's Investigative Reporter, Carolyn Jarvis has spent more than a decade reporting and chasing stories across the country for Global News.
Michael Corey, Reveal News

Michael Corey is Reveal's acting data editor. He leads a team of data journalists who seek to distill large datasets into compelling and easily understandable stories using the tools of journalism, statistics and programming. His specialties include mapping, the U.S.-Mexico
border, scientific data and working with remote sensing. Corey's work has been honored with an Online Journalism Award, an Emmy, the Polk Award, the IRE Medal and other national awards. He previously worked for the Des Moines Register and graduated from Drake University.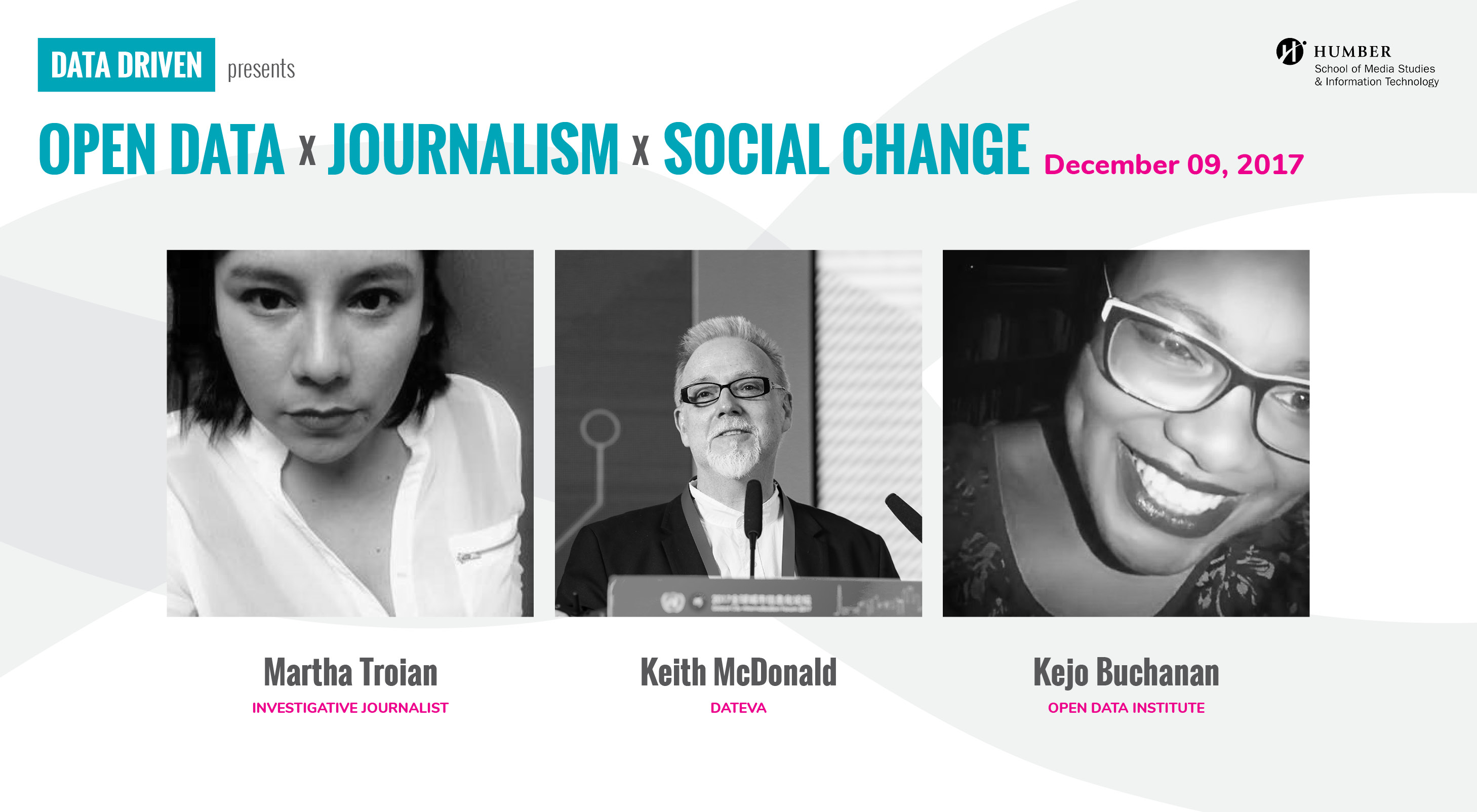 OPEN DATA x JOURNALISM x SOCIAL CHANGE
The motivations of journalists and open data advocates often run parallel, with transparency, accountability and a focus on social empowerment the driving force behind both vocations. But are both sides missing a greater opportunity to work together as a collective to achieve results? Investigative journalist Martha Troian and open data advocates Kejo Buchanan and Keith McDonald discuss the possibilities.
Speakers:
Martha Troian, Investigative Journalist
Martha Troian is an Anishnaabe originally from Obishikokaang (Lac Seul First Nation) in northern Ontario. She is an independent investigative journalist who frequently covers missing and murdered Indigenous women and girls, policing, prisons, and residential schools. Some of her work includes the multiple award-winning and ongoing CBC News Missing & Murdered: The Unsolved Cases of Indigenous Women and Girls, the network's second project Unresolved and more recently Stolen Sisters.
Kejo Buchanan, Open Data Institute, Toronto Node
Kejo Buchanan is an information professional with over five years experience managing records, researching information, resolving database user concerns and outreach to community agencies. Currently, Kejo is studying her MLIS online at San Jose State University with a data science focus and also a member of the Open Data Institute, Toronto Node.
Keith McDonald, Dateva
Keith McDonald is a free agent providing Public Engagement & Communications support to clients. Keith's had a long career in Public Service working both in and out of government and within business and education circles. He translates "I&T/gov" speak" into English with ease and his 10 years working in the open data field has gone viral and world wide - from Toronto to London to Shanghai and back again. Keith also provides speaker coaching & training and is an MC/host for many community events including the Open Toronto Data Book Club.
Special thanks to our sponsors:



Frank Bi

SB Nation




Laura Blenkinsop

The Globe and Mail




Kejo Buchanan

Open Data Institute




Terra Ciolfe

MCLEANS




Michael Corey

Reveal News




Robert Cribb

Investigative Journalist

Toronto Star

Carolyn Jarvis

Global News




Keith McDonald

Dateva




Valerie Ouellet

CBC News

Senior Data Journalist

Michael Pereira

The Globe and Mail




Roberto Rocha

CBC Montreal

Data Journalist

Nael Shiab

L'Actualité

Data Journalist

David Skok

Digital Media Executive




Stuart Thompson

New York Times

Graphics Director/Opinion

Martha Troian

Investigative Journalist




Jessie Willms

CBC News Interactives